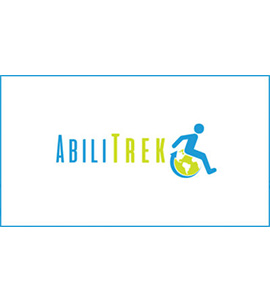 Abilitrek is building a database for travelers with disabilities, projected $17 billion market
New website Abilitrek hopes to serve travelers with disabilities by providing a database of places to stay with accessible accommodations. "There is a big data gap that we're trying to fill," said David Wandke, CEO and founder of AbiliTrek based in Bellingham, Washington. While commenting on the initial idea for Abilitrek, David shares that on an business trip he took this past year "I had to go to three hotels before I could take a shower. When you book a hotel and want an accessible room, you need to really know what that means and if it will meet your needs.
Unfortunately the travel industry isn't quite caught up. With services like Lyft and Uber upgrading their offerings to include more accessible options, and hosting app AirBNB incorporating an entire startup to be more accessible, traditional hotels still have a long way to go. These oversights exists despite the fact that Americans with disabilities are spending more than $17 billion annually on travel. Nearly half of hotel guests with disabilities stand to face obstacles during their stay, said the report by the Open Doors Organization, an organization advocating for people with disabilities.
Collecting data from hotels is only the first step, says Wandke. "They say, 'You use a wheelchair, I know what you need.' But we all have different needs," Wandke said. "There is not one solution to fit everybody". The AbiliTrek website has a questionnaire with 37 accessibility filters so travelers can build their custom travel profiles, including bed and counter height, tools to unlock door via phone, accessible light switches, and other resources to help those with vision and hearing disabilities. This has the potential to empower travelers with disabilities to make more informed decisions for lodging.
AbiliTrek's mission is to solve this problem by giving a personalized experienced for everyone traveling with a disability.
My name is Daman and I am the CEO of Albitrek.
My name is Jeremy and I'm the technical product manager at Abilitrek.
I got involved with Abilitrek about a year and a half ago at the 54 hour startup challenge.
where I met Damon and we took his idea and we formed the foundation of really what the business plan of Abilitrek is today. 
And before I met Damon I did not realize the level of difficulty that people with disabilities face when they traveled. AndI never would have guessed that 13 million people with disabilities travel every year and these are accessibility needs and hotels that I took for granted because they're always available to me but are completely necessary for those disabilities when they stay.
For example Damon had stayed in San Francisco about four months ago and had a really hard time finding a hotel to stay at.
When I booked my hotel and I called the hotel ahead of time to verify that they had a roll-in shower. But when I arrived it turned out that they did not have a roll-in shower. And I had to go to three different hotels before I found a hotel that I could take a shower in.
Situations like that really aren't uncommon, the amount of really limited and inaccurate information on hotel booking sites is crazy to us and it's really just unacceptable to us and that's why Abilitrek exists to solve that problem.