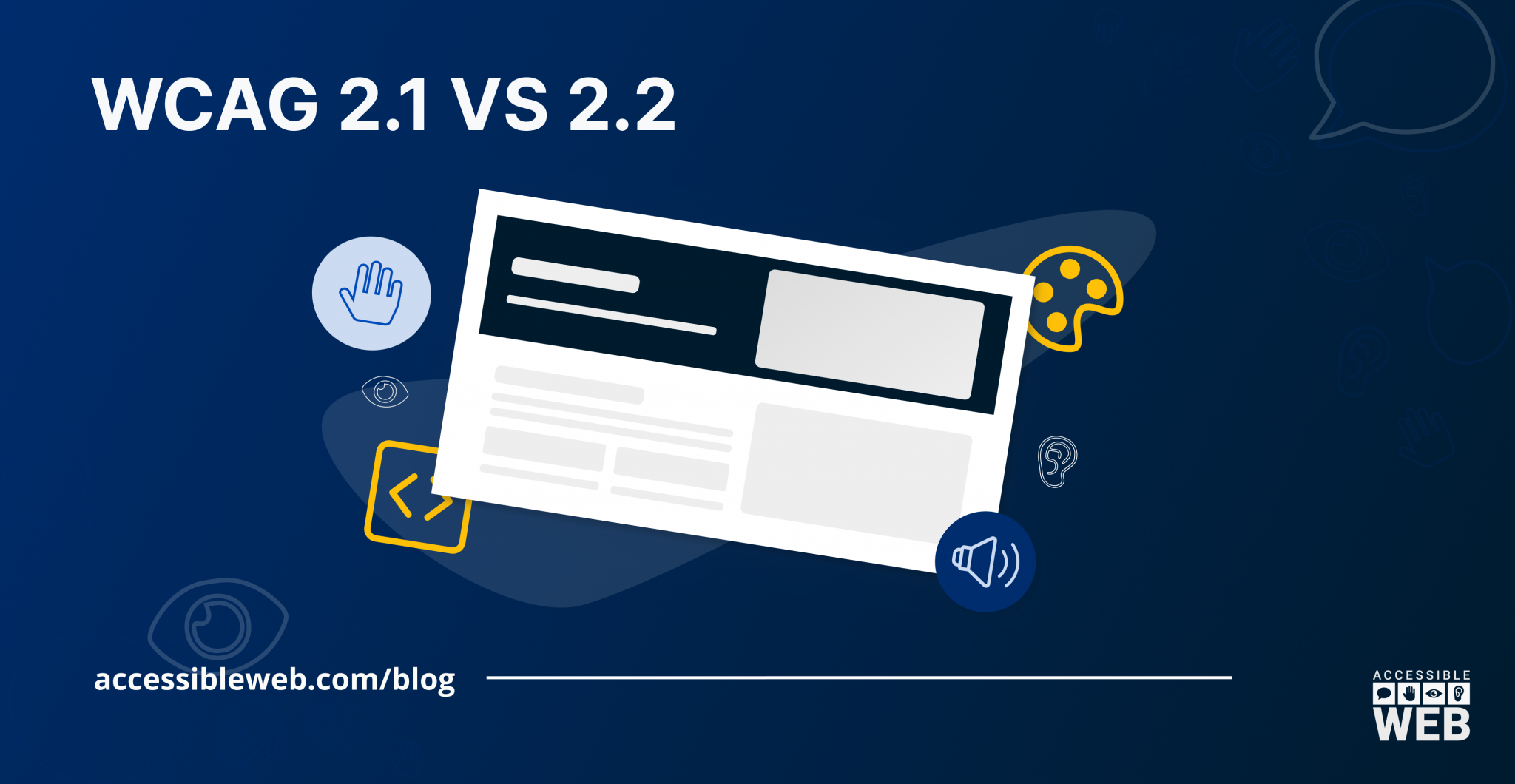 WCAG 2.2 guidelines are an updated set of web accessibility standards being drafted by the W3C. Their upcoming release contains new success criteria that builds on the WCAG 2.1 standard while still leaving the existing guidelines intact. Understanding WCAG 2.2 vs WCAG 2.1 is an important step for your organization's long term web accessibility strategy.
What's new in WCAG 2.2?
The WCAG 2.2 guidelines add 9 additional success criteria including additions to the Navigable, Input Modalities, Predictable, and Input Assistance sections. According to the working draft of the WCAG 2.2 guidelines,
"WCAG 2.2 was initiated with the goal to continue the work of WCAG 2.1: Improving accessibility guidance for three major groups: users with cognitive or learning disabilities, users with low vision, and users with disabilities on mobile devices."
These improvements include…
2.4.11 Focus Appearance (minimum), AA
2.4.12 Focus Appearance (enhanced), AAA
2.4.13 Page Break Navigation, A
2.5.7 Dragging Movements, AA
2.5.8 Target Size(minimum), AA
3.2.6 Consistent Help, A
3.2.7 Visible Controls, AA
3.3.7 Accessible Authentication, A
3.3.8 Redundant Entry, A
When will WCAG 2.2 be released?
A working draft of the WCAG 2.2 guidelines is available however the full release is still coming down the road. At the moment, the W3C plans on releasing the final draft of WCAG 2.2 by September of 2022.
What comes after 2.2? – WCAG 3.0
This latest update to the WCAG guidelines will be followed by a complete re-write of the WCAG standard. While 2.1 and 2.2 standards will carry the same legitimacy as before, the 3.0 guidelines are aimed at simplifying success criteria and creating a framework that is easier to understand and achieve. The WCAG 3.0 guidelines are currently being written with a draft available on the W3C website.
What does this mean for my web accessibility strategy?
The great thing about the WCAG 2.2 guidelines is that they are backwards compatible with the existing 2.1 ruleset. This means that if you already have a web accessibility strategy at your organization, you won't have to make large process changes to be conforming. In fact, the 2.1 standard will hold the same weight as it currently does.