The Americans with Disabilities Act (ADA) is something familiar that affects everyone. Whether it's ramp access at a local business, handicapped parking accommodations at the supermarket, or automatic doors in and out of buildings, we all see how the Americans with Disabilities Act works to build a world accessible to everyone. The ADA accommodations are easy to spot in our physical environment, but what about on your website?
These features can be much more difficult to identify, mostly because there is a significant lack of accessibility accommodations across the internet. According to a study conducted by WebAIM in 2020, 96.8% of the top 1 million websites online contain web accessibility roadblocks that are called out in the WCAG 2.1 standard.
While the ADA does not specifically codify into law the Web Content Accessibility Guidelines (WCAG), there have been a number of precedent setting court cases established by The US Department of Justice that determined the ADA applies equally to websites that provide a service, public accommodation, or other function explicitly stated in the ADA.
But what does this mean?
Simply put, if you have a website, build websites, or manage websites, you need to be thinking about web accessibility and the current state of your website. Be ready to learn, and ready to build a plan.
WCAG, the ADA, and Your Business
In 2022, there has been increasing pressure from legal teams and regulators to push site owners to WCAG 2.1 AA conformance (or ADA Section 508 Compliance). While these efforts can place burdens on your developer teams, create legal burdens, and slow the pace of your business, there is an alternative perspective to web accessibility conformance that shows a more valuable proposition.
Capture Previously Lost Revenue
Implementing web accessibility solutions can be a significant boost to your bottom line. According to the CDC, 1 in 4 Americans have one or more disabilities with almost 50% of Americans 75 and older having one or more disabilities and 35% of working adults having one or more disabilities. If we pull back and look at the global population, more than 1.5 billion people have a disability accounting for more than $13 Trillion in disposable income/market potential. If your website does not accommodate these markets, those individuals will spend their time and money somewhere that does.
Build Brand Identity and Alignment
70% of millennials, or about 56% of US adults consider brand alignment/core values to be important when making a purchase decision. When you look at younger generations, gen x for example, this percentage grows to a vast majority. When you look at the demographics where web accessibility is crucial, these statistics are even more dividing. According to a July 2019 study from Nucleus Research, 9 out of 10 blind internet users are vocal anti-advocates for inaccessible companies, often sharing these sentiments with friends and family, pushing business away. This represents a shift in the purchasing mindset of consumers, especially when evaluating businesses and brands to associate with. At the end of the day, the way a brand presents itself both through its messaging and accommodations will drive customers to it and away.
Reduce Legal Risk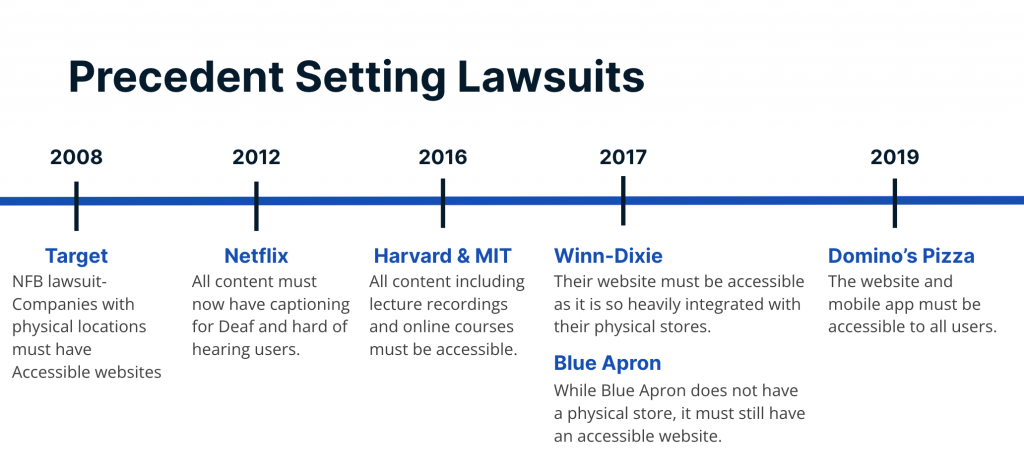 Web accessibility or lack thereof can have significant impacts on a business and its' bottom line and if left unchecked, accessibility issues on your website can leave your business exposed and vulnerable to both legal and financial risk
In 2021 there were 2,523 web accessibility lawsuits filed against businesses, up 14% from 2020. In that same year, there were over 265,000 demand letters sent as well. It is estimated that in 2020, ADA Web Accessibility lawsuits consisted of nearly $6.6B in lost revenue across the country. When you consider that 97.4% of the top 1 Million sites on the internet have detectable web accessibility failures, this madness starts to make sense.
Conclusion
Momentum and awareness surrounding the web accessibility movement are greater than it ever has been before. With value across the business spectrum, implementing web accessibility features is an exciting opportunity to expand your market, connect with new consumers, and capture previously lost revenue. In a time when the internet is accelerating towards usability and accessibility for all, being proactive in your approach opens opportunity to build market share and maximize value.