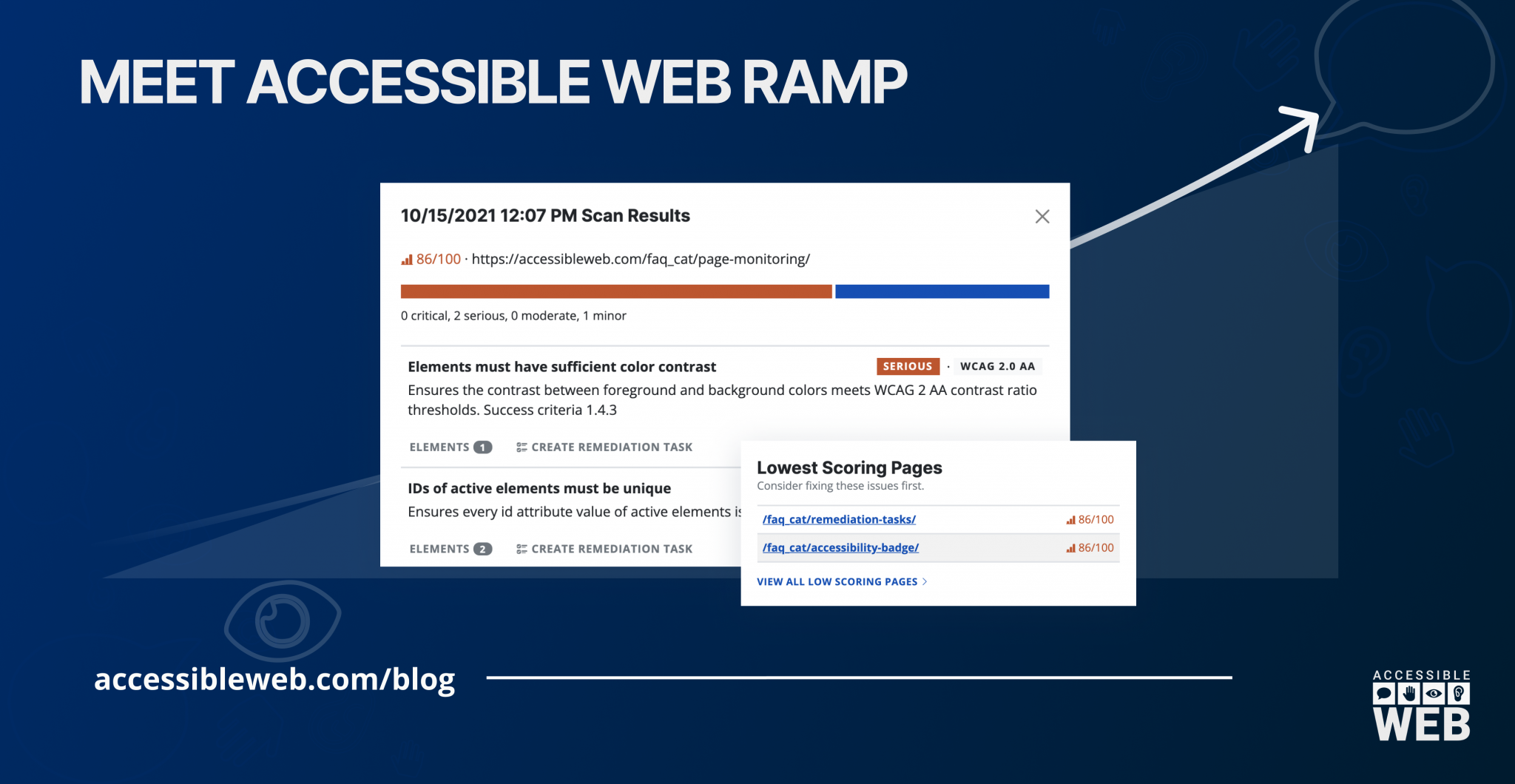 Accessible Web Console is now named Accessible Web RAMP. We're excited to introduce RAMP alongside an expanded ecosystem of accessibility tools, educational courses, and services to help organizations of all sizes RAMP up to accessibility.
RAMP Up to a Fully Accessible Future for Accessible Web
Ramps didn't become commonplace in architectural design and construction planning until the Americans with Disabilities Act (ADA) was passed in 1990, even though wheelchair users can't access buildings and public spaces without them.
At Accessible Web, our role is to build (and help others build) the handrails and ramps of the web. As a mission-driven legal compliance company, we firmly believe that approaching accessibility the right way, from the ground up, is the best way to mitigate legal liability.
We take a comprehensive approach to web accessibility. Our processes and tools are designed to help organizations implement, understand, and maintain accessibility practices long-term—even after they're done working with our accessibility experts. We chose the name Accessible Web RAMP because it reflects our unique role in empowering organizations to ramp up to an accessible digital future.
RAMP: Your One-Stop-Shop for Web Accessibility
Accessible Web RAMP brings our tools, courses, and services together in one central platform.
Automated Page Monitoring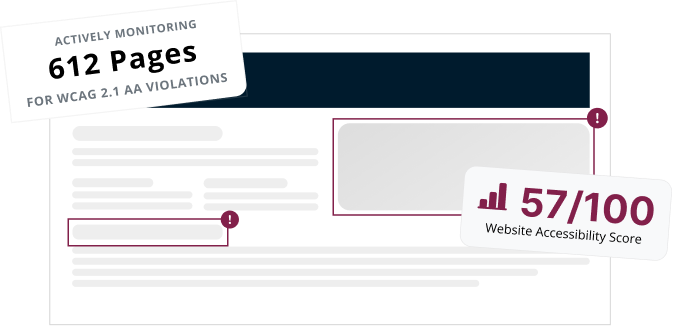 At the core of Accessible Web RAMP, you'll find our powerful page monitoring tool. RAMP Page Monitoring ingests pages from your website, using either your sitemap or a CSV file of your URL paths, for accessibility scanning and automated page monitoring.
Setting up page monitoring with RAMP will help you and your organization maintain accessibility after your initial audit and remediation process. RAMP allows you to configure the WCAG level and frequency of page monitoring scans. Accessible Web RAMP will notify your team when new accessibility issues are detected on your website.
Free Accessible Web RAMP Accounts
We've introduced Freemium RAMP accounts to give more people access to the accessibility tools they need to do accessibility right. Freemium accounts allow you to monitor up to 100-pages per month for free, forever.
What's included in our new Freemium RAMP plan?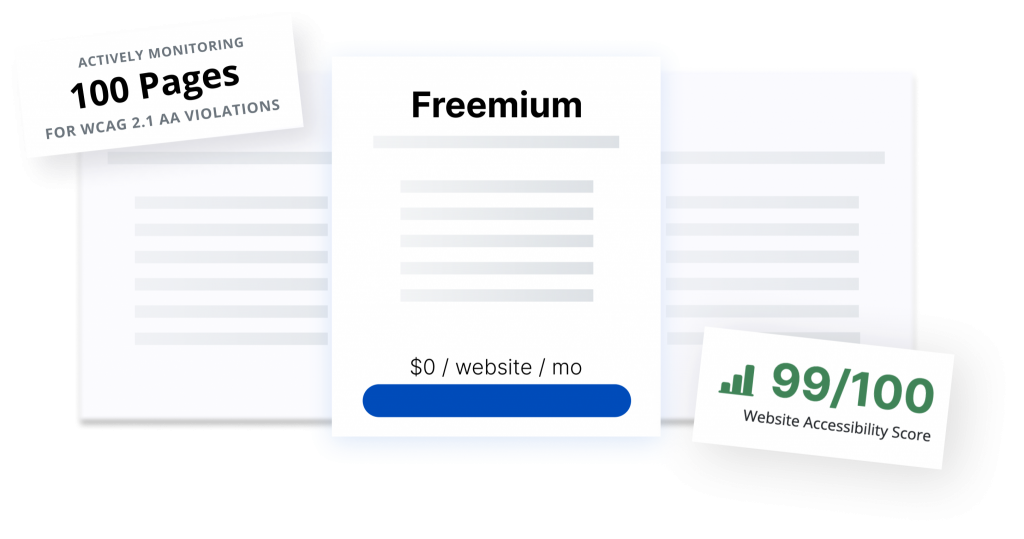 Page monitoring: up to 100-page scans per month for free
Accessible Web's A11Y Center

Accessibility Statement Generator
Appearance Customization
Issue Reporting Form
Accessibility Log

Remediation and task management
Complimentary onboarding support
Interested in monitoring more than 100-pages a month or rescanning your site more frequently? We offer several affordable paid subscription options which included increased monthly scan limits.
Accessible Web Academy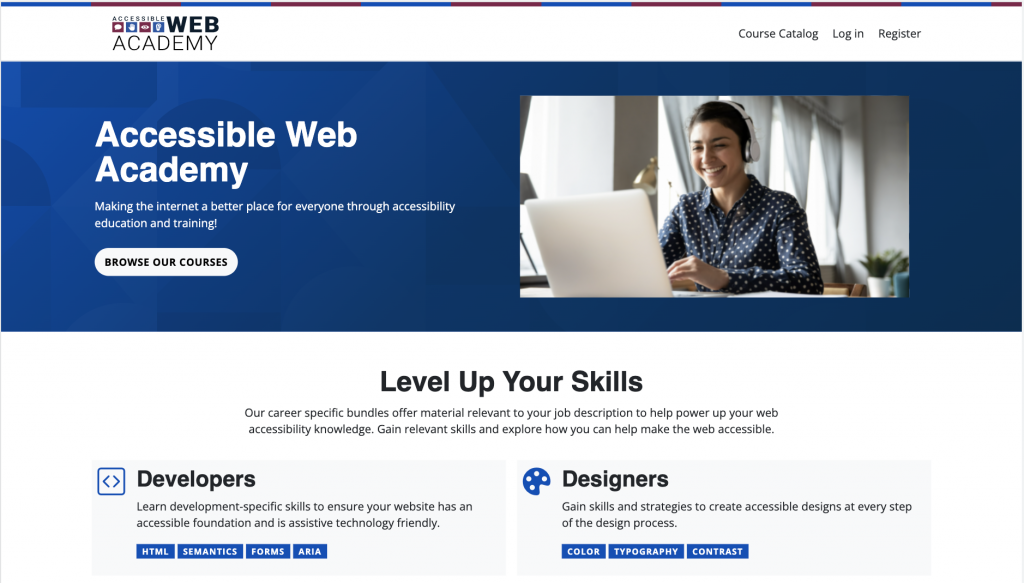 At Accessible Web, we envision an internet where highly accessible websites and applications are the norm. We know we can't build an accessible future alone though—everyone has to get involved! That is why we've developed a series of educational courses, designed to help your team understand the basic tenents of web accessibility.
Think about everyone who might work on or add to your website… if your team doesn't understand the basics of web accessibility, they won't know how the content and changes they're making to your website or application will affect its accessibility. Investing in education for your team is the key to maintaining truly barrier-free digital experiences for users of all abilities.
Accessible Web Academy was developed to help organizations of all shapes and sizes get up to speed on web accessibility. Accessible Web Academy offers role-specific accessibility courses, with courses designed specifically for developers, marketers, content creators, and organizational leaders.
Learn more about Accessible Web Academy and browse our course catalog…
Accessible Web Marketplace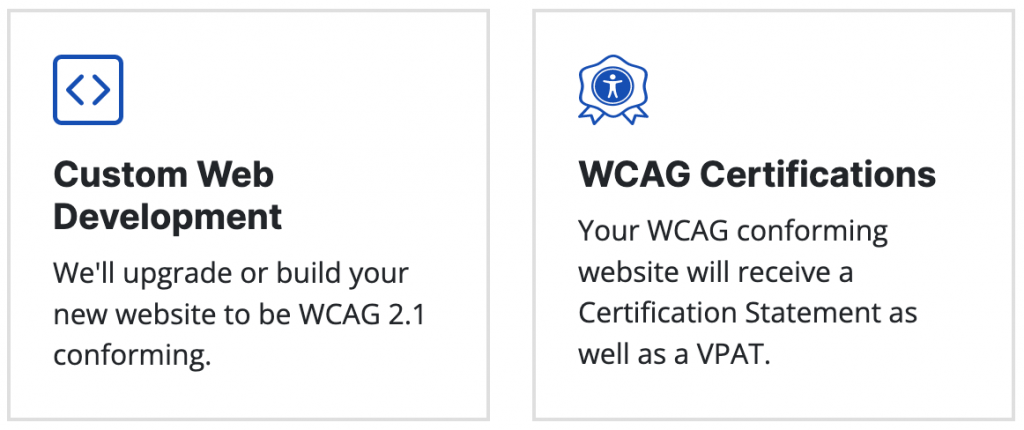 With Accessible Web RAMP Marketplace, you can explore our full range of accessibility services right in RAMP. We offer a comprehensive range of services to help your team create barrier-free digital experiences.
Some of the Services You will find within RAMP Marketplace:
Video Services

Video Translation
Video Captioning
Translation and Subtitling
Live Captioning
Audio Descriptions

Document and PDF Remediation
Custom Web Development
WCAG Audits
WCAG Certifications
VPAT Creation
UX Testing
RAMP is Always Improving
We're continuously improving and expanding our suite of web accessibility tools to help our users upgrade and maintain their web accessibility more efficiently and thoroughly. If you have suggestions or requests for web accessibility tools or services that would help your team, drop us a line and let's set up a time to chat!