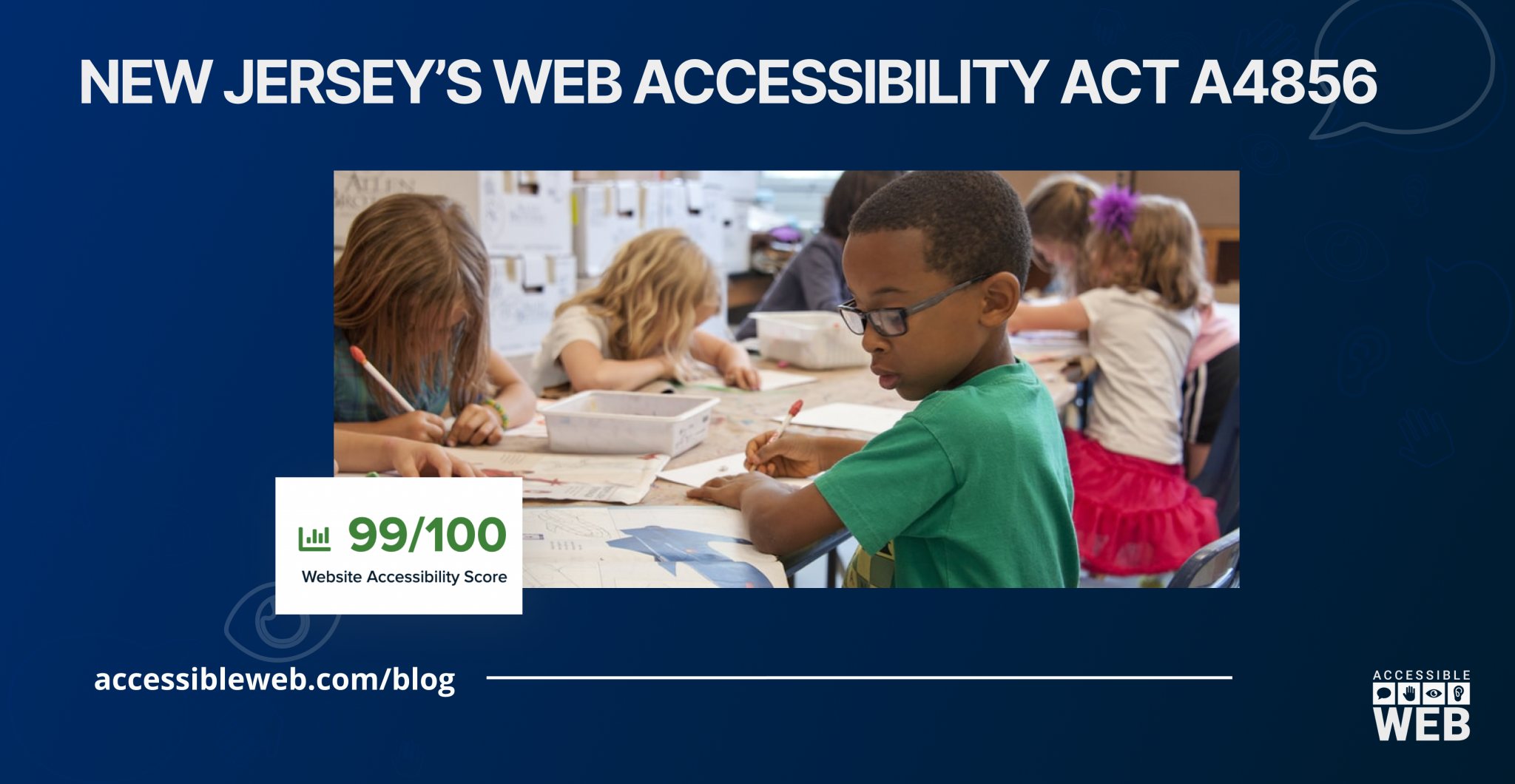 Bring Your School into Compliance with New Jersey's Web Accessibility Act A4856
If you work for a school or school district in New Jersey, it is important to start planning for NJ's new web accessibility requirements now.
Accessible Web's team of specialists can help you create a plan!
Accessible Web's Top 10 Tips for Complying with New Jersey's Web Accessibility Act:
Understand NJ's New Web Accessibility Requirements for Schools
Appoint A Web Accessibility Champion in Your District
Take An Inventory of Websites and Service Vendors – Collect VPATs
Engage with Accessibility Experts Early – Let's Chat!
Install Our A11y Center and Publish Accessibility Policies
Provide Your Staff with a Web Accessibility Course
Set Up Automated Accessibility Scanning/Monitoring to Get a Baseline & Document Improvement
Provide Automated Scanning Tools for Any Staff Who Update the Website
Plan Ahead for The Audit and Certification Process
Planning and Improvement are more Realistic Than Perfection
---
1. Understand NJ's New Web Accessibility Requirements for Schools
As of January 2022: New Jersey's Assembly Bill A4856 requires that school districts, charter schools, renaissance schools, and the Marie H. Katzenbach School for the Deaf ensure their internet websites and web-based services are accessible to persons with disabilities.
Act A4856 requires that any website and web service associated with an educational institution in New Jersey comply with the Web Content Accessibility Guidelines (WCAG) 2.1 Level AA. WCAG 2.1 AA is the generally accepted standard for web accessibility.
After this bill goes into effect on July 1st, 2022, educational institutions will need to obtain a certificate of compliance from the NJ Department of Education before launching or significantly modifying student and public-facing websites and services. Since existing websites and web services will need to be certified as well.
This is a significant regulatory change that will affect every school in New Jersey. Luckily, there are steps you can take now to prepare your school or district for A4856's requirements and to streamline the process of proving your website or service is accessible.
You may see references to both NJ S3094 and NJ A4856, because A4856 was substituted for S3094 in early 2022. The final bill (A4856) passed both houses on January 10th, 2022, and will go into effect on the 1st of July, 2022.
2. Appoint a Web Accessibility Champion
Appoint an Accessibility Champion for each school district. This individual will help plan and oversee your district's accessibility strategy. Your Accessibility Champion will serve as the primary point of contact for issues related to web accessibility.
We also recommend providing a means by which users with disabilities can contact your Accessibility Champion to report barriers to access on your site or web service. Our A11Y Center makes this easy by providing a preformatted issue reporting form where you can add your accessibility champion's contact information.
3. Take An Inventory of Websites and Web Service Vendors — Collect VPATs
A4856 defines an "internet website or web service" as "any webpage, website, web service, online curriculum, or online third party or open educational resource product that is made available to enrolled students or the public."
Take an inventory of all websites and web services associated with the school or district. Make sure to include your school's or district's website, any web portals, and all 3rd party web services used by students, their families, or the general public.
In addition to your district's websites, does your school or district use a third-party grading platform? How about a web-based virtual learning environment or LMS–like Blackboard or Canvas?
Ask your third-party vendors to provide you with their Voluntary Product Accessibility Template (VPAT)–the industry standard document used to evaluate how accessible a product is. Any third party that is WCAG Conforming most likely has a VPAT that they can provide.
If they don't provide a VPAT or provide a VPAT that shows only partial conformance, your district should let them know about the July 1 deadline and try to get an idea of how your third-party vendors plan to become accessible by that date.
Getting in touch with all 3rd party web service providers and platforms early will help make the compliance process less painful for everyone.
4. Engage with Web Accessibility Experts Early — Let's Chat!
Establishing a relationship with third-party web accessibility experts early can save you time and money in the long run. What is an accessibility expert?
It is a good idea to discuss the anticipated scope of your project with certified web accessibility experts. Getting an expert's perspective is will help your district set realistic expectations and a reasonable timeline for the process.
Check for credentials (mention our IAAP certs) and experience with working on large projects
5. Install Our A11y Center and Publish Accessibility Policies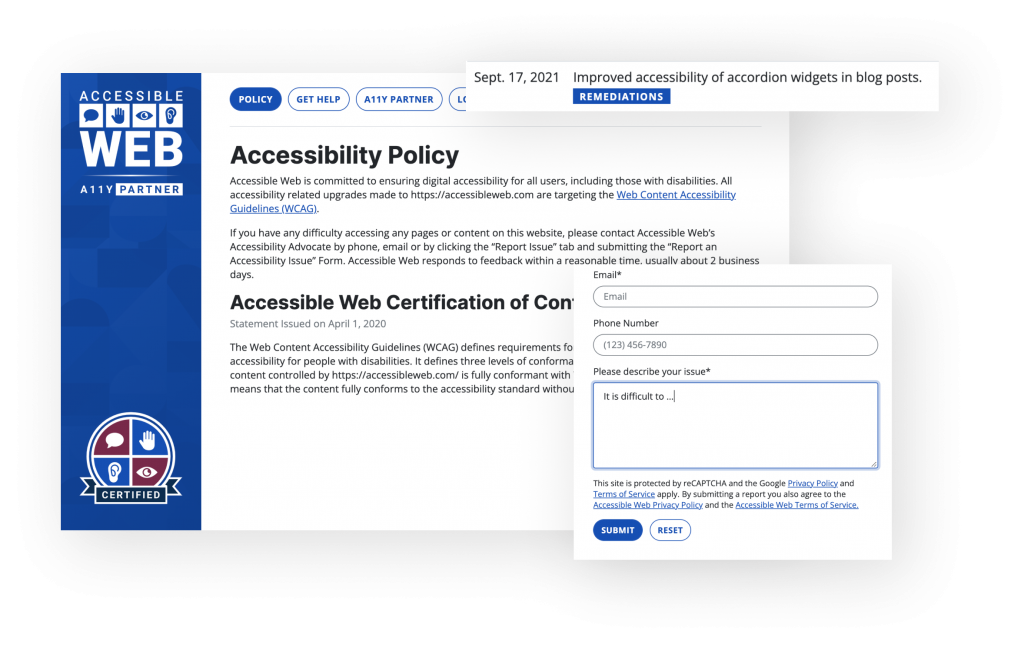 Accessible Web's A11Y Center tells website visitors that you care about web accessibility, are engaged with third-party experts, and actively working to upgrade inaccessible elements of your website. It can be installed in just a few minutes, with one snippet of code. You can customize its appearance and location on your website, including a text-only option for your footer.
The A11Y Center can be customized to contain the information you want to share. At the very least, we recommend displaying an accessibility statement along with our issue reporting form so users with disabilities can report barriers to access if they encounter them on your site.
Additionally, you can make your log of accessibility upgrades visible in our A11Y Center as evidence of your commitment to maintaining accessibility in the long run.
You can set up your A11Y Center from within your Accessible Web RAMP account.
6. Provide Your Staff with a General Web Accessibility Course
The goal is to maintain accessibility, not just achieve it. Within each school, teachers and academic departments work independently to create their own presentations, academic resources, and curriculums. Maintaining accessibility is only possible when teachers and staff understand accessibility standards. For this reason, your school's web accessibility strategy needs to include a plan for educating faculty and staff on web accessibility guidelines and expectations.
Investing in accessibility training, through a reputable third party, is the best way to get everyone up to speed on accessibility.
Accessible Web offers a series of customizable online web accessibility courses, aimed at each level of your organization from administrators to support staff. We give your faculty and staff the resources they need to understand accessibility requirements and start creating their own accessible academic content.
Create Custom Course Modules for Anyone Managing Content or Updating Your Website
It is important to provide educational resources to staff who might update the website or create content. Custom course modules are one of the best ways to help your faculty and staff learn to create accessible curricula and content.
Our custom course modules are tailored to different staff positions within the district and the types of web content they interact with. Our courses can be delivered via our own Learning Management System (LMS) or packaged up and sent to be used in your internal LSM.
7. Set Up Automated Page Monitoring
Automated page monitoring tools can't fix accessibility issues, but they can help you identify new ones and maintain compliance with WCAG 2.1 AA.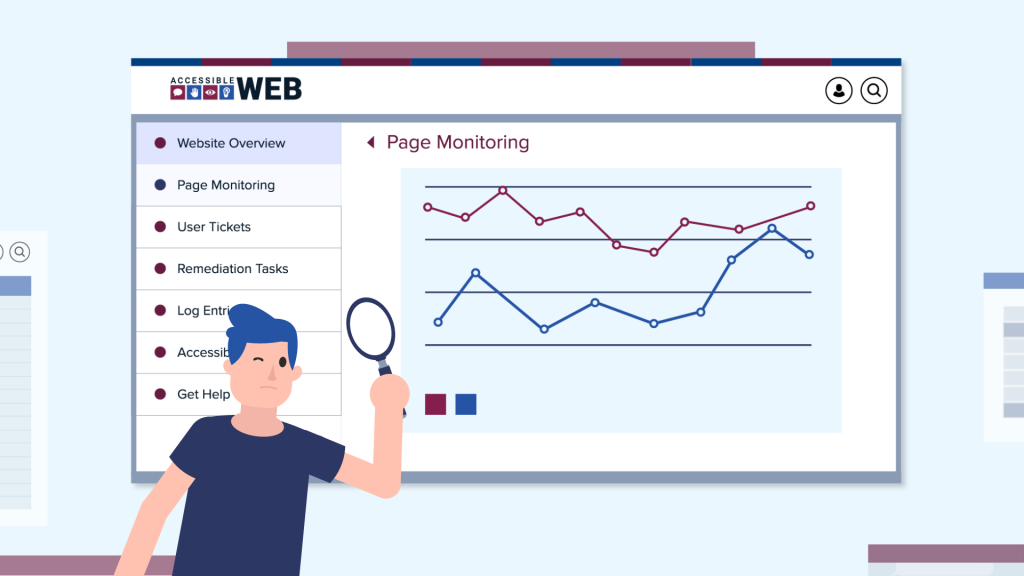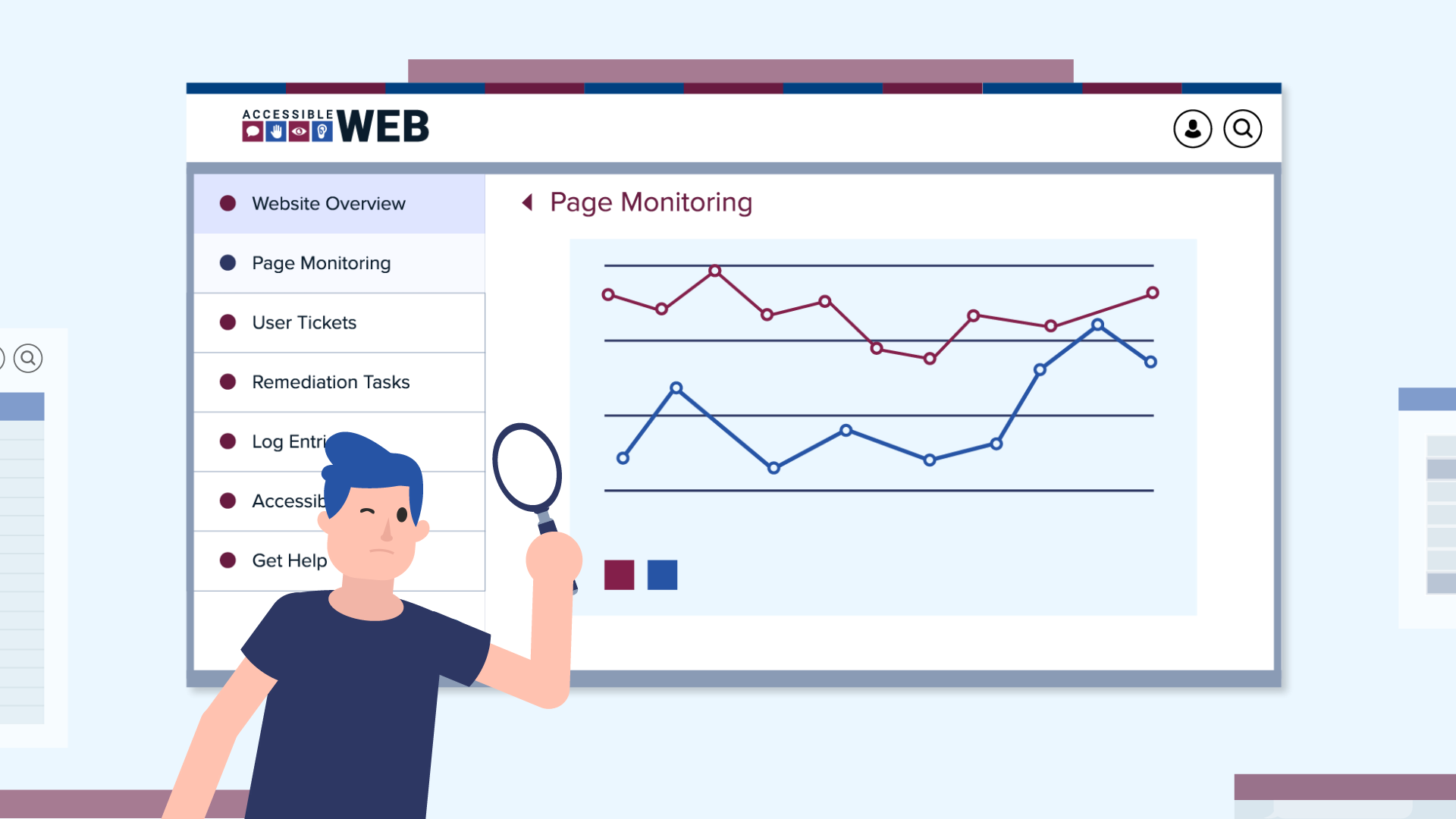 Further, schools need to establish a plan for maintaining accessibility. Under this new web accessibility act, educational institutions in New Jersey will be required to submit a "statement of assurance" every two years to certify that they remain in compliance with WCAG 2.1 AA or "the most up-to-date version of the guidelines."
Tools like our Accessible Web RAMP can help you monitor accessibility across your whole website, alert you to new accessibility issues, and streamline the process of obtaining letters of assurance and/or certifying your website.
Maintaining accessibility using page monitoring and regular check-ups is simply the most cost-effective solution to the new requirements laid out by A4856.
8. Provide Easy to Use Tools
Provide faculty and staff with easy-to-use tools, like our Accessible Web Helper Extension for Google Chrome, to help them evaluate the accessibility of content they create and the online resources they use with students.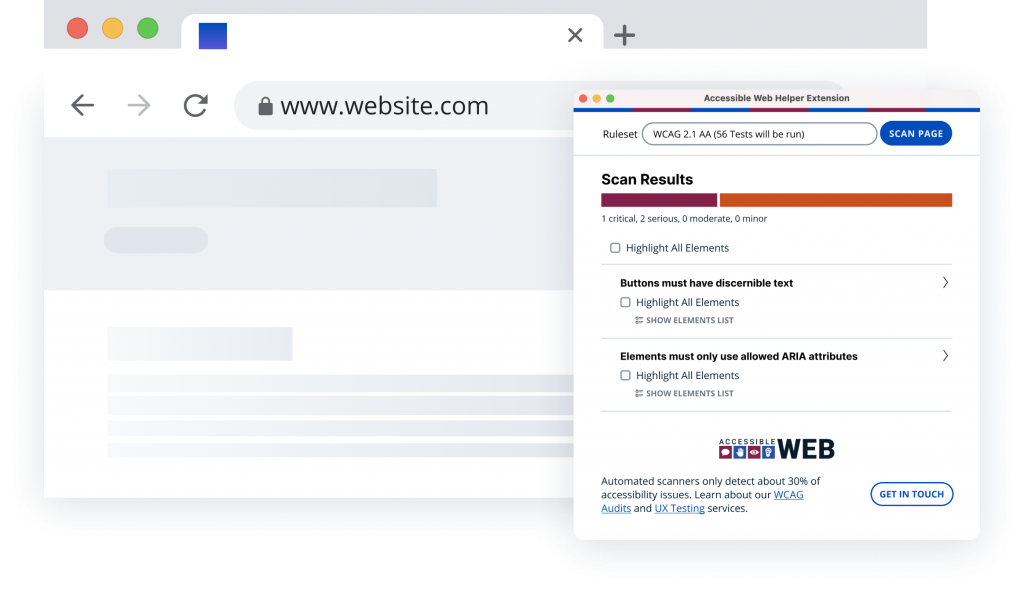 The Web Accessibility Helper extension is free and super easy to use. The extension can help streamline your accessibility process by analyzing websites using the Web Content Accessibility Guidelines (WCAG).
The extension provides everything faculty and staff need to begin tackling violations and fixing accessibility issues on their personal websites, course curriculum pages, and other online content made available to students.
9. Conduct a Full Manual Audit & Create a Statement of Assurance
This section should be around the requirement:
"The [Office of Information Technology in the] Department of Education shall be responsible for [issuing certifications of compliance, which certifications] collecting the statements of assurance, which shall attest that an Internet website or web service complies with the requirements of 1 [the] this section and shall post such information on the Department of Education's Internet website which shall be updated every two years."
The best time to start planning for your audit and certification is now. New Jersey's new requirements will go into effect July 1st, 2022; you should be aware that auditing and upgrading your site before certification takes time.
Automated page monitoring and accessibility scanners, like our Accessible Web RAMP, are fantastic tools once you've established baseline accessibility, but these tools can't detect all accessibility issues. To ensure your site or web service is fully compliant, a manual audit will be necessary before it can be certified as compliant with WCAG 2.1 AA.
Properly auditing a website takes time, resources, and in-depth knowledge of web accessibility guidelines. Our audit and certification process, for example, includes an initial audit, upgrades & remediation by the client, a verification audit after remediations are made, review, user experience (UX) testing, and certification.
The timeline for an audit and certification project can vary significantly. Some factors that influence the length of time it will take to complete your audit include the size of your website, the number of unique page templates, and your development resources. To discuss what an audit might look like for your district's website or web service, get in touch with us!
10. Accessibility is a journey, not a destination
Websites, digital content, and web services are always evolving–web accessibility is a long-term commitment, not a one-time project! This is reflected in New Jersey A4856's requirement that websites be recertified every two years to ensure they are maintaining compliance with the new web accessibility guidelines. A comprehensive and forward-thinking strategy is the best way to get it compliant and remain in compliance with New Jersey's new web accessibility requirements for schools.
Assign an Accessibility Champion. Provide training and resources to staff. Establish baseline accessibility with an audit and certification. Document upgrades and remediations. Install our A11Y Center. Set up automatic page monitoring in our Accessible Web RAMP. And implement a long-term strategy for remaining WCAG 2.1 AA compliant.
---
Let's discuss your school's web accessibility plan!