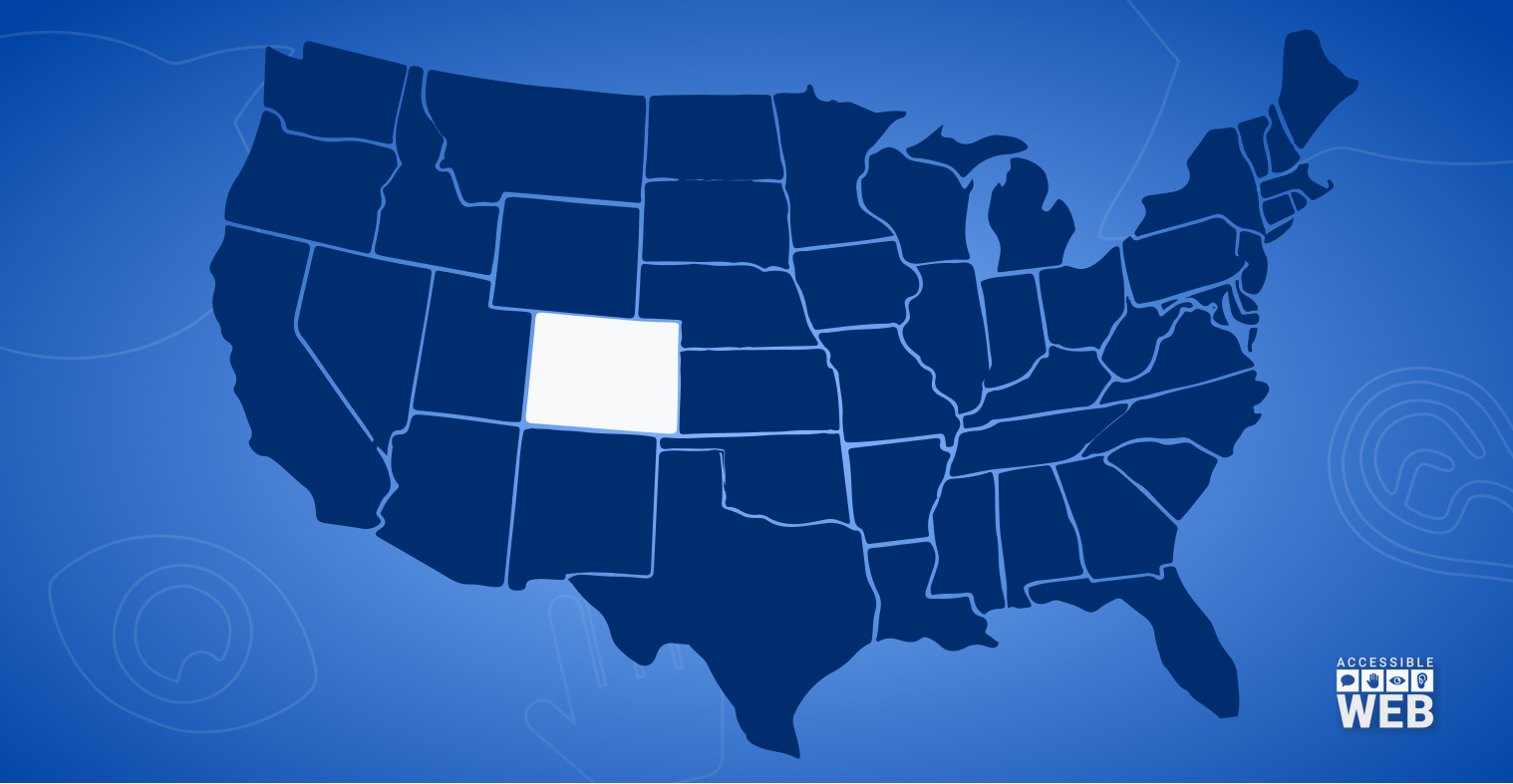 Colorado's New Accessibility Law for Government Entities
If you work for a government entity in Colorado, now is the time to get serious about achieving WCAG 2.1 AA conformance.
Colorado House Bill 21-1110 aims to ensure that state services, digital platforms, and content meet WCAG 2.1 AA standards for accessibility by July 1, 2024. Since we are a little more than a year away from HB 21-1110's deadline for WCAG conformance, we figured we'd do a little refresher on HB 21-1110 to help Colorado government entities prepare for the coming requirements.
For more background on Colorado's new accessibility law, take a look at our blog post "What You Need to Know about CO HB-1110" from the summer of 2022.
Developing and Executing an Accessibility Plan
As of July 1st, 2022, all government entities are expected to have established an accessibility plan that lays out the path to WCAG 2.1 AA conformance by July 1, 2024.
Your accessibility plan should also include a training process for internal team members and a system (like Accessible Web RAMP) for monitoring accessibility after the initial audit has concluded.
Although all government entities in Colorado are required to develop an accessibility plan, only state agencies are required to submit this plan to the Office of Information Technology. Other government entities– such as higher education institutions, the Department of Education, Legislative departments, Judicial departments, the Treasury, and local governments–are not required to actually submit a written plan.
Has your agency or organization fallen behind in creating an accessibility plan? It is not too late to catch up. Get in touch for help!
Achieving WCAG 2.1 AA Conformance
Achieving WCAG 2.1 AA conformance is not a small task. It is important to plan ahead and align the proper resources–both internally and in the form of 3rd party exports–to achieve this requirement by 2024.
Automated accessibility testing tools like WAVE, Lighthouse, and Accessible Web RAMP allow you to run quick accessibility checks and monitor for continued conformance, but not all WCAG success criteria can be fully tested with automated tools. A manual audit is always required to ensure your website or application is truly WCAG 2.1 AA conforming.
Working with a third-party accessibility company, like Accessible Web, helps ensure the audit is performed consistently and efficiently. As an added bonus, undergoing an audit with Accessible Web is a great way to upskill your team. We make sure to include ample opportunity to learn about WCAG and accessibility implementation during the audit process. Our team can help work with you to develop an auditing cadence that fits your timeline, budget, and internal resources.
Alternatively, if you have accessibility experts on staff already, Accessible Web's suite of tools–including our Guided Manual Audit tool and RAMP–can help you perform your own consistent internal audits.
Consequences of Inaccessibility After July 1, 2024
In Colorado, failure to develop an accessibility plan by July 2022 and to conform with WCAG 2.1 AA standards for accessibility will be considered discrimination against people with disabilities.
Individuals with disabilities who are unable to access your information for services will be able to bring a civil action against your agency or organization. Any Colorado government entity that fails to meet accessibility standards and is found to be engaging in discrimination, as a result, could face the following penalties:
Monetary damages
Attorney's feeds
A court order requiring compliance
A statutory fine of $3,500, payable to each plaintiff (each affected person with a disability) for each violation
Failure to achieve WCAG 2.1 AA conformance by July 1, 2024, opens up Colorado government entities to liability and makes it harder for all Coloradans to access government services.
Who is Impacted and What Technology is Covered Under HB 21-1110
CO HB 21-1110 applies to all technology, hardware, software, and online content including websites, applications, kiosks, digital signage, documents, video, audio, and third-party tools. It covers both public-facing and internal-facing technology and content–anything provided or procured by a government entity for use by either the public or employees.
Anyone involved in producing or maintaining your website, application, or online content should receive training around accessibility practices. This ranges from developers to content creators and marketing staff.
It is important to consider all your websites, applications, and online content in your agency or organization's accessibility plan. If you procure technology or content that is managed by a 3rd party, reach out to them proactively to ask about their accessibility practices. You may request they provide documentation of WCAG 2.1 AA conformance for their product and/or content.
Questions about how CO Hb 21-1110 impacts your Colorado government entity? Get in touch with our team!