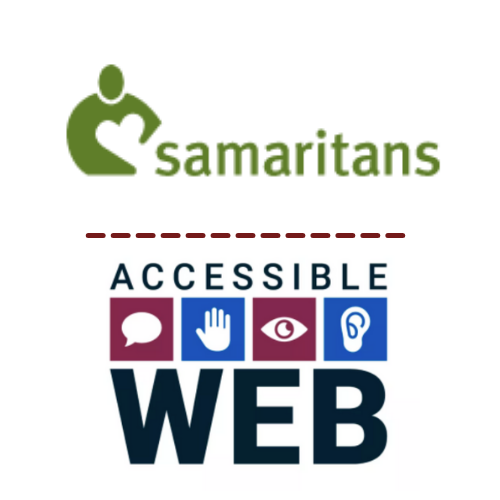 Client Highlight: Samaritans
Continuing our Global Accessibility Day posts, we would like to congratulate another one of our stellar clients who have achieved WCAG 2.1 AA conformance. Samaritans is a suicide prevention nonprofit. Focused on breaking down the stigma of mental health, Samaritans is dedicated to ensuring their helpline is there to support those struggling with their mental health. Offering the option to call, text, or chat with a volunteer 24 hours a day, Samaritans want to make sure no one in crisis feels alone.

Recognizing the importance of web accessibility, Samaritans joined with Accessible Web to upgrade their website. Allison Perri Newman, Director of Marketing & Communication, states "At Samaritans, we love to say that our programs and services are for everyone. Ideally, they are. But we realized a massive barrier in our own outreach was in not making our website accessible. According to the Suicide Prevention Resource Center, having a disability or a serious physical health issue can increase suicidality. That means our services, like everyone else, should not just consider accessibility as an afterthought, but should center it." A commitment to providing support for everyone struggling led the Samaritans team to recognize that web accessibility is necessary as the web evolves. 
An estimated 15% of the world's population has one or more disabilities. Those with disabilities are four times more likely to have attempted suicide. When services such as Samaritans' are not accessible to users with disabilities it may block attempts to reach out for help. Samaritans has ensured the Disabled community has access to the support needed to help prevent these deaths.
Accessible Web would like to congratulate Samaritans on their accomplishment of becoming WCAG 2.1 AA certified. The dedication to accessibility Samaritans has shown is a testament to their passion for the work they do. In response to working with Accessible Web, Allison states "It's been almost three months and I haven't stopped talking about how amazing the experience working with Accessible Web was. As a one-person team, they made my life so much easier. We were so excited to unveil our new site – and I only wish we had ten more websites to work with the team on!"
Accessible Web is always excited to see our clients succeed in their web accessibility project. Dedicated teams such as Samaritans showcase that building an accessible experience for all users is not only possible but necessary. We are dedicated to continuing to partner with our clients as they continue their accessibility journey.