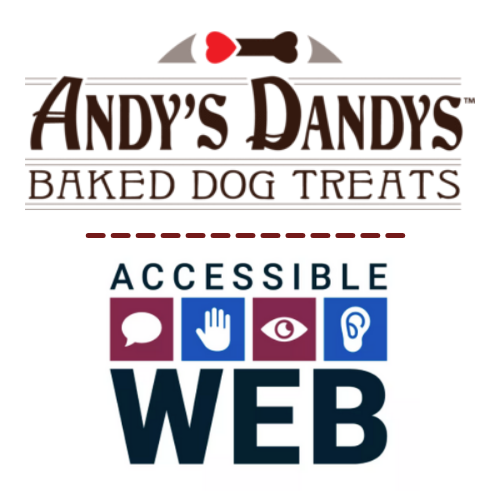 Client Highlight: Andy's Dandys
For Global Accessibility Awareness Day, we would like to congratulate some of our stellar clients who have achieved WCAG 2.1 AA conformance. Andy's Dandys was born from namesake Andrew's passion for creating healthy treats for his dog, Rosie. From its inception, Andy's Dandys has focused on inclusivity and creativity. With a mission to create an exciting and inclusive workspace for folks with intellectual disabilities like Andrew, who has Down syndrome, the business has grown into a commercial bakery space producing thousands of healthy dog treats a week. Continuing to create opportunities for folks with intellectual disabilities, Andy's Dandys has fostered training programs individualized to each student that help them learn skills to access jobs they care about.

Recognizing the importance of web accessibility, Andy's Dandys joined with Accessible Web to upgrade their website. Marie Johnson, Special Projects Director and Andrew's sister, states "The moment we realized web accessibility was a thing, we thought: "How did we not realize this was a thing?!" and then promptly started planning our rebuild. It was absolutely a no brainer, especially in this day and age when so much communication and commerce is done online, web accessibility is most certainly as critical as any other kind of accessibility. You can't be an accessible company unless you are accessible in all spaces physical and virtual. Since learning about what authentic web accessibility is with Accessible Web, we've looked for other ways to improve our accessibility in our virtual spaces, like adding alt text to our social media posts and using CamelCase for hashtags, and encouraging others to join us just like we do in the physical world." A commitment to making the world a more accessible place led the Andy's Dandys team to recognize that web accessibility is crucial to the future of the web.
Andy's Dandys continues to utilize Accessible Web's Accessibility Center on their website to monitor their accessibility. The Accessibility Center provides a conduit for website users to report any accessibility barriers or request any accommodations. The Center also provides a log of all the work Andy's Dandys has put into their website's accessibility. Lastly, the Center provides a space to display their Accessibility Statement to highlight their commitment to ensuring all users may access their website.
Accessible Web would like to congratulate Andy's Dandys on their accomplishment of becoming WCAG 2.1 AA certified. Upgrading their website's code allows all users to access their products. This feat is no small accomplishment. In response to working with Accessible Web, Marie Johnson states "the folks at Accessible Web are a dynamite group to work with. From the start, their responsiveness and professionalism were on point, but they're also fun people with a great sense of humor, which made what could have been a stressful process (we knew nothing about web design) actually a really enjoyable one. They were super organized with deliverables, timelines, expectations, and roles clearly defined, which set us up for seamless collaboration and easy success. Everyone on our project's team – our accessibility specialist, project manager, and web developer – communicated in terms we could understand and taught us so much about accessible design so we can now feel confident making our own updates to our site that stay within conformance. And when we need help – they're there. What we've ended up with is a top-notch website that everyone can access, and the security of a supportive partnership to maintain that access – we really couldn't have asked for more."
Accessible Web's A11Y Success Coordinator, Lauren Layn, states, "Andy's Dandys' mission to employ folks with disabilities made this project extra meaningful and their commitment to accessibility energized the project from the start." We are always excited to see our clients succeed in their web accessibility projects. We are dedicated to continuing to partner with our clients as they continue their accessibility journey.