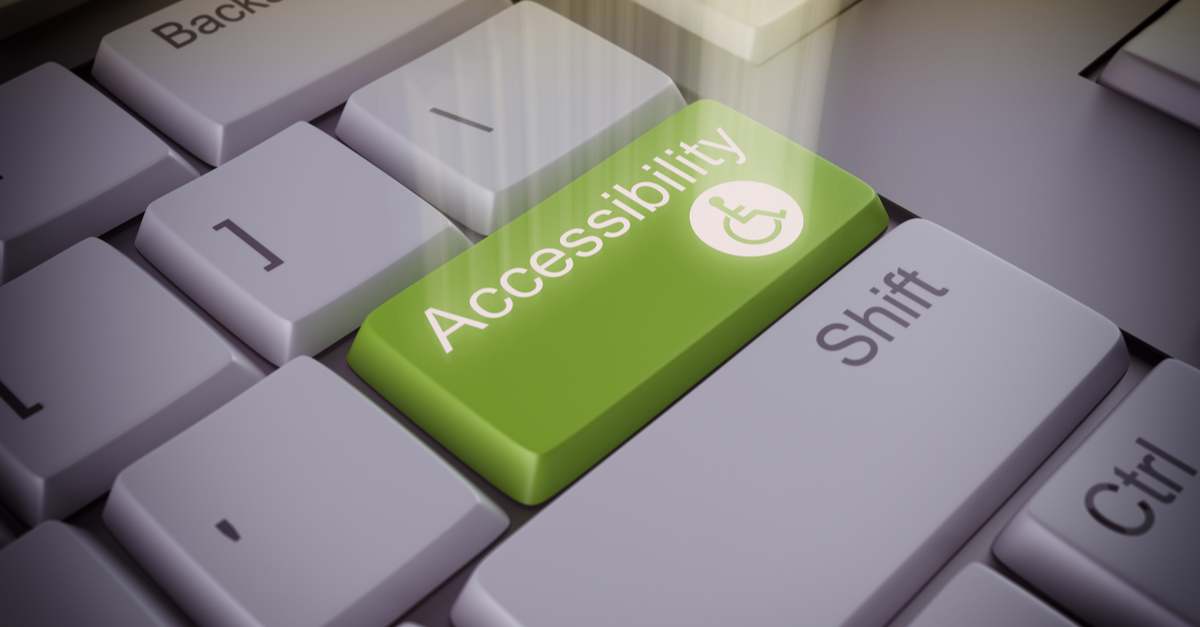 Misconceptions About Making Websites Accessible
We've put together a list of the 3 most common myths about web accessibility and the reasons they just are not true!
#1 "Making my site accessible only benefits a small number of people."
One of the most common misconceptions about accessibility is that it only benefits people with disabilities. That is not true. Making websites more accessible benefits everyone.
15% or 1 billion of the world's population and over 56 million people in the United States have a disability.
At some point in our lives we ALL will experience limitations or lack of certain abilities. We are all going to get older–and nearly 50% of the US population that is over the age of 65 has a disability. Accidents happen. You may break an arm and be unable to use a mouse. You might have to order groceries online after a knee surgery leaving you unable to leave your house.
The primary goal of accessibility may be to give people with disabilities complete and easier access–but–everyone's experiences are improved through better usability. The Web Accessibility Initiative's Accessibility Principles foster the goal of making a website: Perceivable, Operable, Understandable and Robust. These principles are not just about accessibility, but they are about usability and compatibility, which creates a better user experience. In general, accessibility increases the chances of more people being able to easily use your site and services regardless of their abilities, tech literacy etc.
#2 "Making my website accessible is too expensive and therefore won't be worth the investment."
As already mentioned, 5% of the world's population has a disability. People with disabilities and the people they influence control $8 trillion in annual disposable income. If folks with disabilities cannot use your site, you won't get their business (and you may lose the business of those they influence).
Adding alt text on images, transcripts for videos and heading tags used to organize your content improves your site's Search Engine Optimization SEO. Search engine bots love clean, semantically correct HTML. They easily pick up accessibility related upgrades, which makes your site more likely to be found. This translates to more business opportunities!
Accessibility lawsuits are on the rise, as are laws around digital accessibility. Investing in accessibility now, could help you save money by avoiding a costly lawsuit in the future.
Consumers care about corporate social responsibility. 88% say they would buy from a purpose-driven company, and 66% say they would switch to one. Smart companies know that accessibility is good for business and the right thing to do.
For more information on the ROI of Digital Accessibility, check out this infographic from the Perkins School for the Blind.
#3 "Why can't I just use one of these automated scanners to identify accessibility issues?"
These tools can be really helpful in finding some accessibility issues, like color contrast and lack of heading tags. But on average, only about 25% of accessibility issues can be picked up by an automated scanning tool.
The Perkins School also points out 10 Accessibility Barriers an Automated Scanning Tool Can't Find. Among them are more qualitative issues, like site navigation, proper alternative text for images and descriptive labels, and the correct role for interactive elements, like forms and buttons.
Disability rights groups, The U.S. Department of Education, The World Wide Web Consortium's Web Accessibility Initiative and more stress the need for a combination of an automated test, manual (human) testing, and testing by a person who uses assistive technology. Accessible Web does all three of these tests as part of our certification process.
Where do we go from here?
Altering your website in order to conform to accessibility guidelines may seem overwhelming and like something you just can't fit into the other priorities your company or organization faces everyday. But history can teach us that accessible infrastructure is needed and benefits everyone; just as updating our buildings, streets and transportation systems took money, time and work, so will shifting the web towards full accessibility. Let's chat about how Accessible Web can help you shift this way.