A11y Updates: Instagram, Twitch, and Zoom
This past August we published a blog post showcasing some of the latest A11y Updates for Windows, Firefox, and Apple. For our next installment in this series, we're talking about accessibility updates to Instagram, Twitch, and Zoom! We love seeing companies taking strides to create a more inclusive experience on the web and hope that more leading corporations will see the value in making products that are accessible, because this needs to be the standard for all companies.
Instagram
Automatic Closed Captions for IGTV Videos
IGTV is a feature on Instagram where users are permitted to share videos up to 60 minutes long as opposed to the time limit of 60 seconds for videos posted to the Instagram Feed. Closed captions can now be automatically generated for IGTV videos, making this content accessible to users who are Deaf or hard of hearing, as well as users who choose not to turn their sound on. A Verizon Media and Publicis Media study found that:
"69% of consumers view video with sound off in public places and 25% watch with sound off in private places"

"80% of consumers are more likely to watch an entire video when captions are available"

"50% of consumers say captions are important because they watch video with sound off"

Source: Forbes: Verizon Media Says 69 Percent of Consumers Watching Video With Sound Off
Making content accessible to people with disabilities is the exciting aspect of this update to us, but it's also another important reminder that accessible content benefits all users.
Twitch
New Features in Stream Chat
Stream chat is a feature of Twitch which allows viewers of a stream to chat with each other, as well as with the streamer themself! Stream chat is integral to the purpose of Twitch; it elevates the platform to a social media site as well as a streaming site by allowing interaction between users and content creators. It's always our stance that accessibility is vital, but when a tool allows people to connect in new ways and share experiences that importance is even more clear.
We're delighted that Twitch is taking steps towards making the experience better for all users, including those with disabilities. Here are some of the new features for stream chat: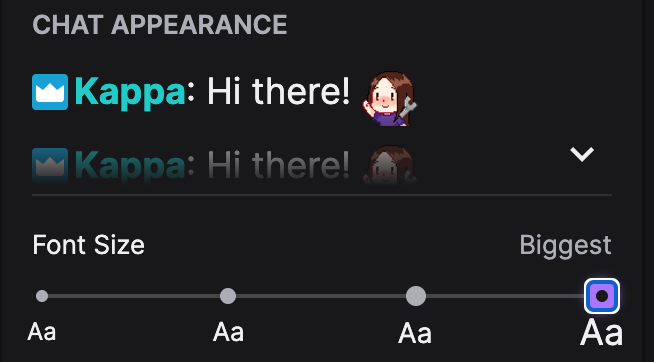 Users can adjust font size when using a web browser: There are now four font sizes that users may choose from.
Users can decide whether or not the text will have readable colors: Usernames within stream chat on Twitch are displayed in various colors, some of which have low contrast against the background. Now users can choose to change these colors so that the usernames are readable.
Users can decide whether or not timestamps should be included for each line: This information can be considered unhelpful and cause clutter, or could be helpful depending on a user's needs so it's great that users have been given the ability to toggle this functionality on or off.
All of these adjustments to stream chat can be made from the "Chat Appearance" panel within "Chat Settings". Press the button labelled "Chat Settings" (visually labelled with an image of a cog), then choose "Chat Appearance" to arrive at the "Chat Appearance" panel.
Zoom
Added Accessibility Features
Zoom has been around since 2011, but until recently was mainly used for business. With the rise of the Coronavirus pandemic, we've seen Zoom used for happy hours, family gatherings, and other social events. This increased use of Zoom highlights how an inaccessible video conferencing platform can lead to missed social and professional opportunities for people with disabilities.
For these reasons, we're happy to have noticed that Zoom has added some features to improve its accessibility! Users can now:
Pin windows: Users can now choose how videos displaying people on the call are organized on the screen. This is particularly helpful for users who are Deaf or hard of hearing because there will frequently be a sign language interpreter present, and users need to be able to see the sign language interpreter at all times in order to understand the entire conversation.
Obtain transcripts: Zoom now has the ability to automatically transcribe calls. This transcript is recorded to the cloud, but can also be displayed on-screen during the call.
Adjust text size of closed captions: Users can now choose between a "normal", "medium", or "large" font size for closed captions.
Use more keyboard shortcuts: Zoom now has a wide array of keyboard shortcuts. Users are now able to choose from a long list of keyboard shortcuts as well as edit those shortcuts to remap which keys will be used to perform those actions. Check out some of the available keyboard shortcuts on Zoom.