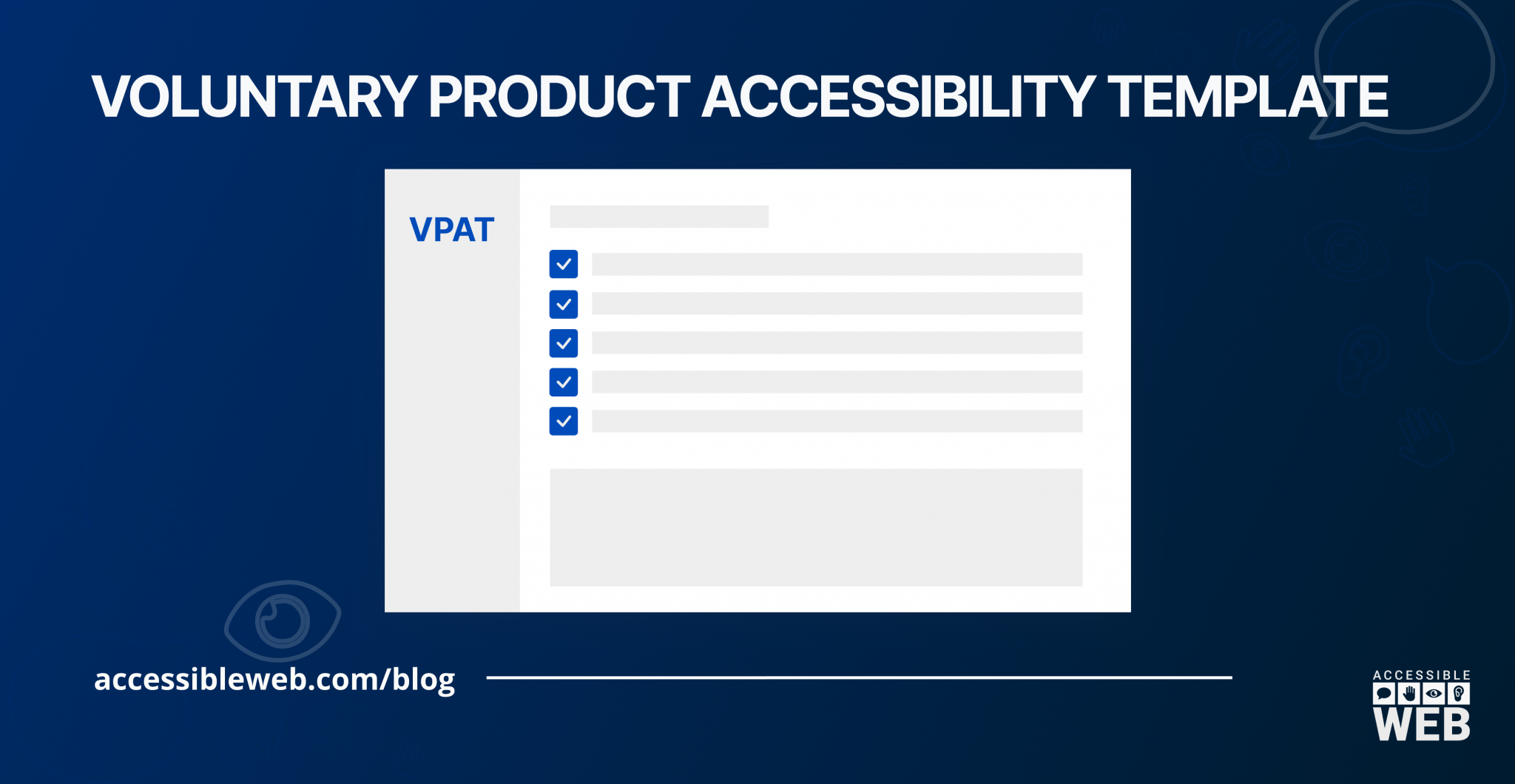 Voluntary Product Accessibility Template – VPAT
Your VPAT or Voluntary Product Accessibility Template tells users how accessible your product or services is for users with assistive technologies.
What is a VPAT?
A VPAT is a document used to help users of Information and Communication Technology (ICT) make informed decisions before engaging with a service or product. The first iteration of this document was created by the Information Technology Industry Council (ITI) in conjunction with the US government and is now a registered service mark of the ITI. A VPAT has an introductory section outlining product testing, scope, and methodologies, followed by a table detailing conformance to specific success criteria.
A VPAT helps customers and procurement professionals:
Understand a product's accessibility compliance
Compare accessibility between similar products
Select a product that best aligns with the organization's goals and legal requirements.
Plan for equal access when a product or service is inaccessible.
A VPAT can be thought of like a trail map in the woods. Understanding what the trail map looks like gives you a sense of where you are going, how to get to your destination, and what types of obstacles you may encounter along the way. Understanding a VPAT gives your users a sense of how a site, app, or service functions, how to navigate it, and where potential impacts may live for those using assistive technologies.
Who needs a VPAT?
A VPAT is required for any application, service, or product that is classified under Section 508 guidelines of the Rehabilitation Act. In the United States, this involves all entities doing business with or receiving funds from the federal government.
You need a VPAT if you are a(n)…
Educational institution or vendor
Federal agency
Government contractor
What products/applications need a VPAT?
A VPAT is product specific and applies to all ICT products, applications, and services. This includes physical ICT equipment, as well as native applications, ICT services, and websites. In a suite of products/services, each unique product/service requires its own VPAT.
Creating a VPAT
As the name suggests, a Voluntary Product Accessibility Template is a templated document that helps product owners generate unique documents for each product/service offered. For example, Shopify provides VPAT documents for each of its individual products, including its Debut theme and Shopify Checkout.
Whether you are an internal accessibility expert, or someone new to the space, you have the ability to write a VPAT. VPAT documents can be created by your internal accessibility team, but, if your organization lacks a dedicated web accessibility specialist, we recommend working with a third-party organization that specializes in accessibility to save your team time, money, and frustration. It's important to dedicate the right resources to creating your VPAT — an incomplete document can expose your business to liability and risk losing new business by inaccurately reflecting your site's accessibility.
A VPAT can be created against many different standards and here at Accessible Web we deliver to the WCAG standard. We have a number of tools designed to help your organization build a VPAT that makes sense for your business. Contact us and start building the most effective web accessibility strategy for your organization.