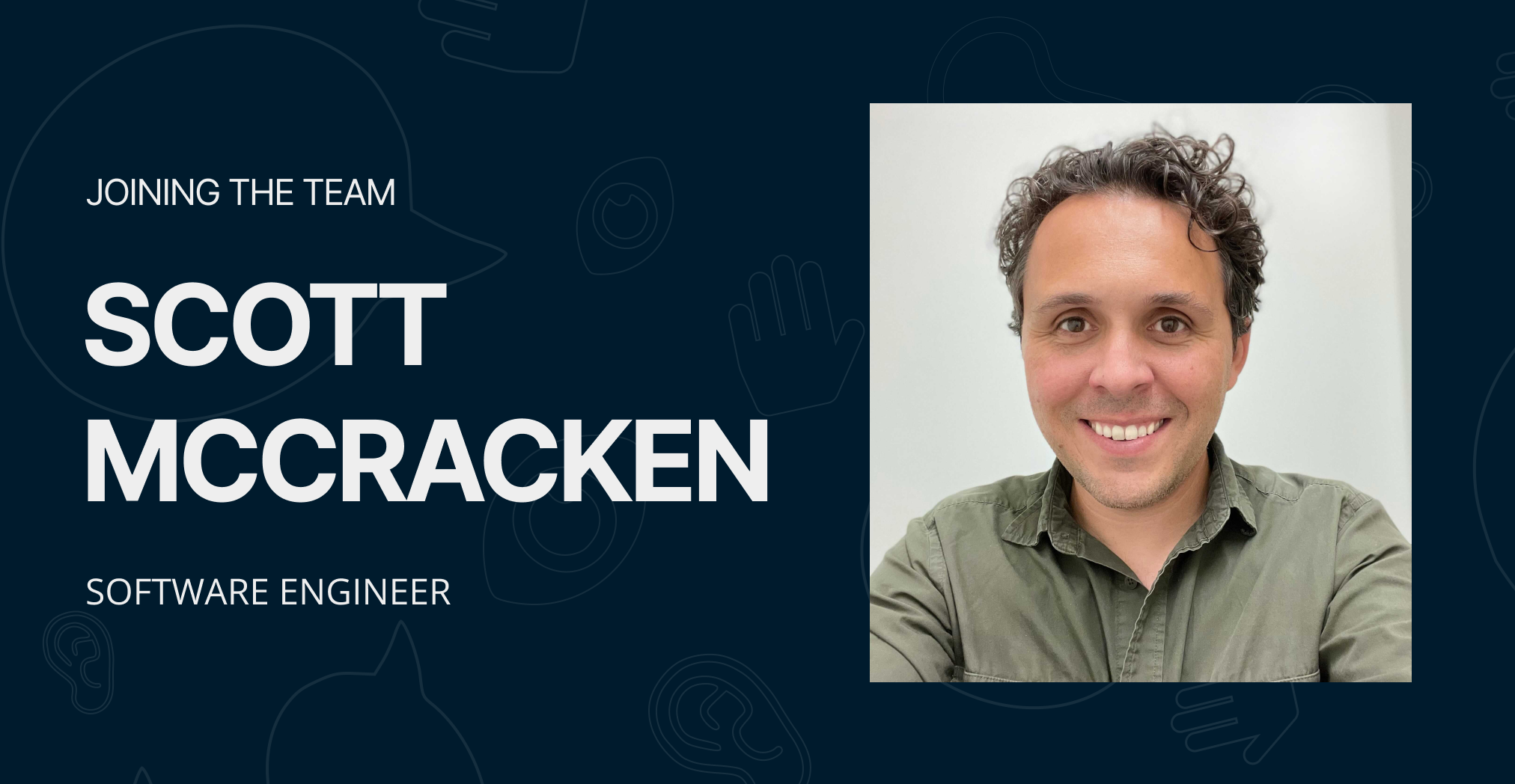 A Q&A with our new team member, Scott McCracken
Scott joined our team as one of 2 new software engineers last month. Passionate about accessibility, he is joining Accessible Web in our mission to make the internet accessible to everyone, regardless of ability. Join us in welcoming Scott, and learn more about his background from our Q&A below:
Where are you from?
I'm originally from Massachusetts but have called Vermont home for over 20 years.
Why did you get into software engineering? What is your favorite part?
I've been hooked on creating things on the web ever since publishing my first GeoCities site over an inconsistent AOL dial-up connection. In other words, it's been a while. But no matter how long I've been doing this, the one consistent feeling has been the thrill of taking an idea and turning it into something that can be instantly distributed to a worldwide audience.
What introduced you to the web accessibility space?
My mom was diagnosed with ALS and as her symptoms progressed she depended on online services for everyday tasks that became too difficult to do in person. It was eye-opening how many sites were inaccessible and the burden that was placed on her. As a front-end developer it was the first time I was seeing the effect something like a button or form control with a small click target could have on a person with reduced dexterity. It was devastating, but I've used that experience to drive me to do everything I can to make the web a more inclusive space ever since.
What excites you the most about Accessible Web?
The company has recognized from the very beginning that there is no fully automated solution to fixing accessibility problems online. That's an incredibly important distinction. Real, meaningful change requires testing and continued guidance, not just throwing a script on a page and masking problems. By fixing the underlying issue and explaining why those changes are important, you can make a difference that is useful for all users and essential for others. At the end of the day it's all about helping people and It's hard to imagine anything more exciting than that.
What's a professional skill you're currently working on?
The majority of my career has been spent working on the very front of front-end web development. I'm hoping I can bring some of that experience into my new role where I'm learning new-to-me languages and frameworks for developing helpful applications and tools.
What inspires you?
I'm inspired by working with talented people that push me out of my comfort zone. I'm inspired by the thought of making a meaningful positive impact on someone's day. And I'm also inspired by my daughter who is the ray of sunshine that I need after a long day of traversing through error messages and self-inflicted git woes.
What do you like to do outside of work?
I love gardening, woodworking, skiing, and hiking. Anything to get outdoors or work with my hands and step away from a screen for a bit.
What fictional place would you most like to visit?
If you can navigate through the emotional minefield that is the first 10 minutes of Pixar's Up!, I've always loved the scenes from Paradise Falls. A land full of natural wonders and talking dogs? What's not to like?
We're excited to collaborate with someone as passionate about digital accessibility and equality as we are. We can't wait to see the contributions Scott makes to our team and product.