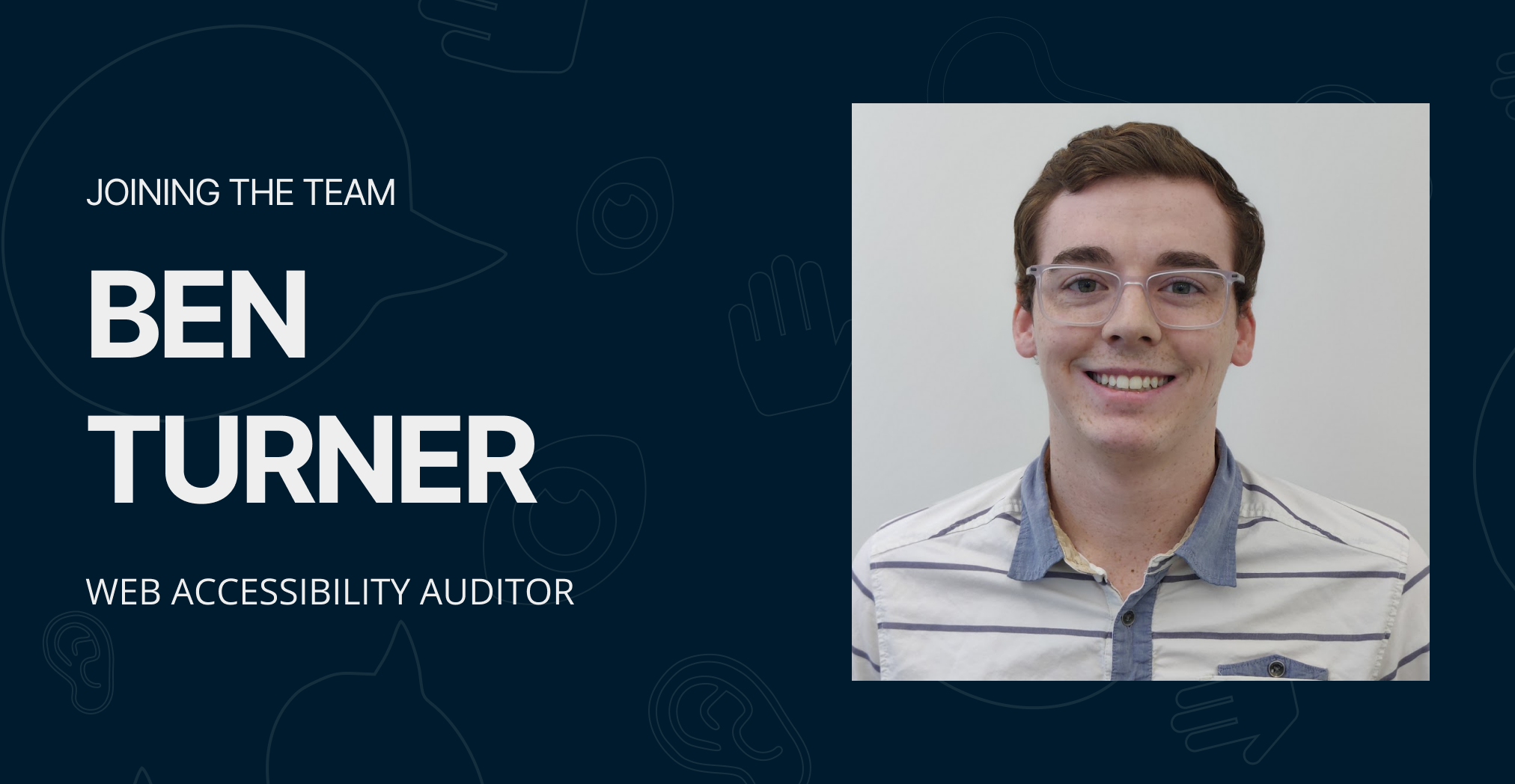 A Q&A with our new team member, Ben Turner
Ben joined our team as an accessibility auditor last month. Passionate about accessibility, he is joining Accessible Web in our mission to make the internet accessible to everyone, regardless of ability. Join us in welcoming Ben, and learn more about his background from our Q&A below:
Where are you from?
I was born in Orlando, FL but moved to Vermont when I was very young. I grew up in Colchester, VT, and have lived around the Burlington, VT area for most of my life!
Why did you get into this field? What is your favorite part?
After college, a friend of the company was telling me all about the field and I became interested immediately! So far, my favorite part has been the realization that there will always be more to improve upon in the world of accessibility. This means that the field will forever be changing for the better!
What introduced you to the web accessibility space?
Accessible Web itself was the first introduction I ever had to the web accessibility concept and realm. It is extremely fascinating and as one who took coding classes in college, I feel that it was not discussed nearly enough, if at all!
What excites you the most about Accessible Web?
Knowing that we are making a difference in the world that can benefit so many people is very exciting to me. I am also very excited to be working with a company so driven and motivated to grow!
What's a professional skill you're currently working on?
I am currently working on becoming a website auditor. Specifically, I am trying to get better at detecting instances where sites fail to comply with the accessibility guidelines. I am also learning how to make beneficial suggestions for how to improve a site's accessibility.
What inspires you?
I am inspired by those who wish to access, acquire, and share knowledge no matter what challenges may face them. Learning is something I am extremely passionate about and I am inspired by those who are forever seeking new information.
What do you like to do outside of work?
In my free time, I enjoy snowboarding, listening to music, golfing, hunting, fishing, and relaxing by the lake. Spending time with friends and family is something I value very highly, plus cooking on the grill and playing yard games is always a good time!
What fictional place would you most like to visit?
If I could visit any fictional place, it would have to be the continent of Westeros from Game of Thrones. I loved the TV series. However, I must admit that I never read the books. Living in a world as wild as theirs would be a bit much, but I do think that visiting could be fun!
We're excited to collaborate with someone as passionate about digital accessibility and equality as we are. We can't wait to see the contributions Ben makes to our team and product.