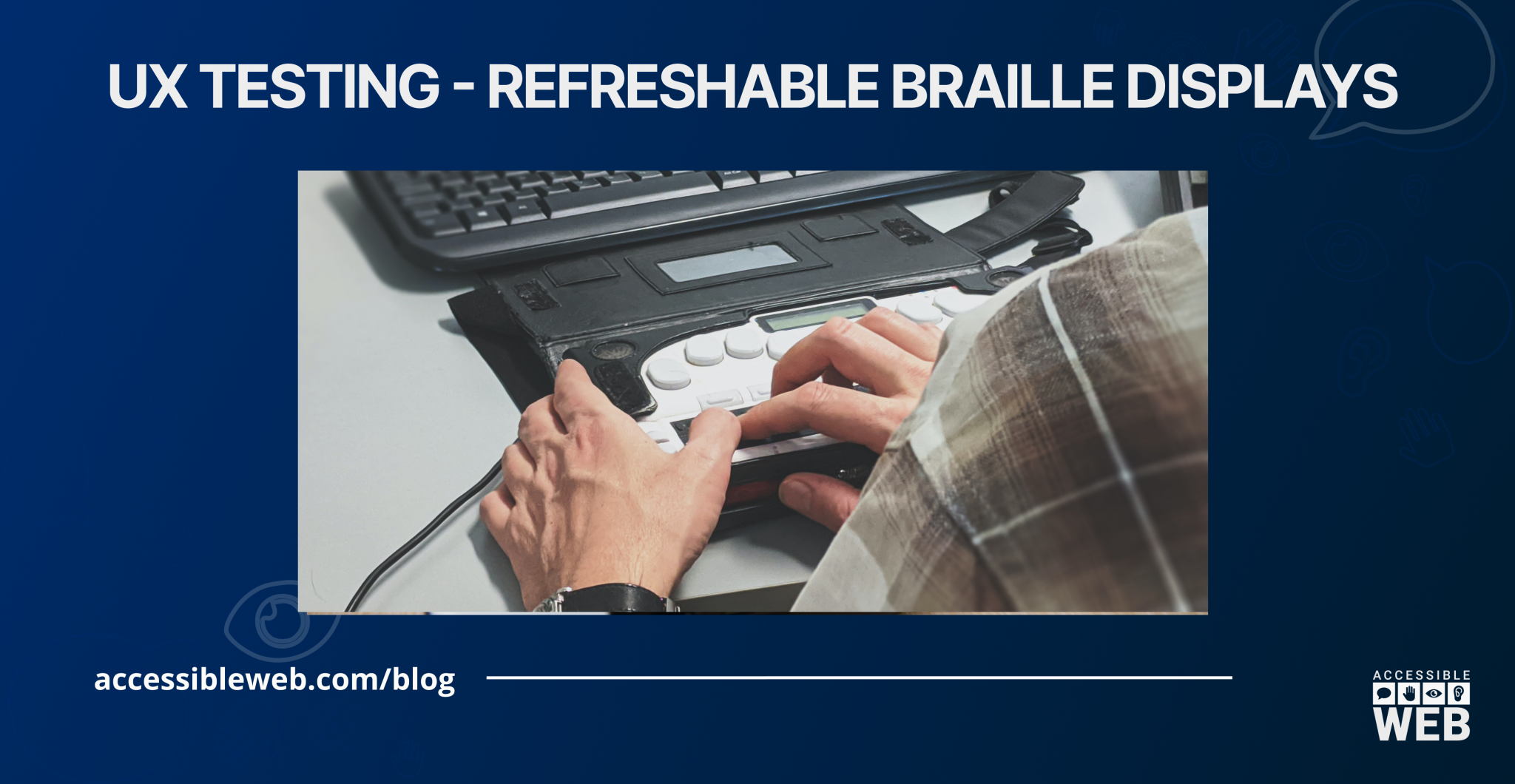 UX Testing – Refreshable Braille Displays
User experience testing with real users will identify accessibility and usability issues not captured through automated processes. Our experienced testers will navigate through your website using their assistive technology, including refreshable braille displays.
What is Braille?
Braille is a symbolic system used to represent print using raised dots that a person with visual impairments can touch to read. It became the dominant reading and writing system during the 20th century despite other systems using raised lines and various shorthand symbols. Braille consists of a 6 or 8-dot matrix with 3 or 4 dots in two columns. Initially, Braille consisted of a 6-dot matrix, but the 7th and 8th dots were added with the advent of computers, refreshable Braille displays, and Braille embossers.
Braille representation is defined by what is called Braille codes. Braille tables are translation files used by Braille embossers and screenreaders which support refreshable Braille. The translation tables convert print characters and symbols into their respective Braille equivalent. Braille is used to represent text, music, math, and science.
How is Braille written and read?
Braille is written using a keyboard with keys corresponding to each dot in the Braille matrix. Mechanical keyboards use a 6-dot matrix and write directly to paper. Braille embossers use translation software to convert print to Braille and send it from a computer to an external Braille embosser. Braille is also used with devices known as refreshable Braille displays. The term 'refreshable' means that Braille dots are sent to the Braille displays and the characters are refreshed as the Braille user scrolls text.
Many Braille displays have an 8-dot keyboard to send text to a computer or phone. Some Braille displays have internal applications and memory. These allow the user to take notes in Braille and store the information on an internal hard drive in the Braille display or on an SD card. Most Braille displays can be operated in a stand-alone mode, where the Braille user is not interacting with a computer or phone. Braille displays usually use some version of Android, Linux, or proprietary operating systems. When a person uses a Braille display with a computer or phone, a screenreader handles sending text to and from the computer or phone to the Braille display.
Most Braille displays use a standard form factor consisting of the Braille keyboard, control buttons and switches, Braille cells, and cursor routing buttons. Recently the American Printing House for the Blind introduced a Braille display with a QWERTY keyboard which has become extremely popular. Most screenreaders including, JAWS, NVDA, VoiceOver, and Narrator, support Braille displays directly. Using a Braille display with an Android device requires installing an application that provides Braille functionality.
Why Braille Accessibility Matters
Accessibility matters because visually impaired people need to interact with documents, web pages, and mobile applications. To a person who is deaf and blind, Braille is the only modality they can use with a screen reader. Documents and spreadsheets need to be formatted correctly to create and emboss Braille documents. Web pages need to be accessible so a blind person filling out a form can follow and know where and what they are editing. Braille displays get the layout and structure of pages, tables, and other tabular data on a website. People also use Braille if unsure of what their screenreader is announcing. Examples include the incorrect use of capitalization, missing accent marks in foreign languages, unusual trademarks which a screen reader does not know how to interpret, and technical math and science equations. Blind people also use Braille when presenting or providing training. Blind customer service representatives use a Braille display to provide information and enter data without the distraction of having to both listen to their screen reader and listen to the caller.
Sample Test Cases
Below is a non-exhaustive list of some sample test cases. Ideally, these test cases are performed by a blind person who is a fluent Braille reader.
Ensure that forms are correctly labeled so the person can identify where they need to enter text. Ideally, edit requirements should only announce once: when the field gets focus or displays outside the edit field. A person who is deaf and blind will set up their screenreader to send the text of audio alerts to the Braille display.
Avoid the excessive use of alerts. Alerts display in Braille, and they erase what the Braille reader sees on their Braille display even though the text is not deleted from the edit field.
Since Braille displays have cursor routing buttons, clearly label links and other elements so a Braille user can move the cursor or simulate a mouse click from the Braille display.
Make sure tables contain a summary caption and captions for rows and columns.
Do not use temporary alerts for error and confirmation messages on forms.
Test that language tags and foreign language symbols are used consistently so when a Braille reader navigates a page containing content in more than one language, the content will be displayed correctly in Braille when the user changes language options.
Schedule a UX testing session with us to see how accessible your site is to real users. Automatic scanners only detect around 30% of errors, this is the next step in verifying that real users are having a barrier-free experience.