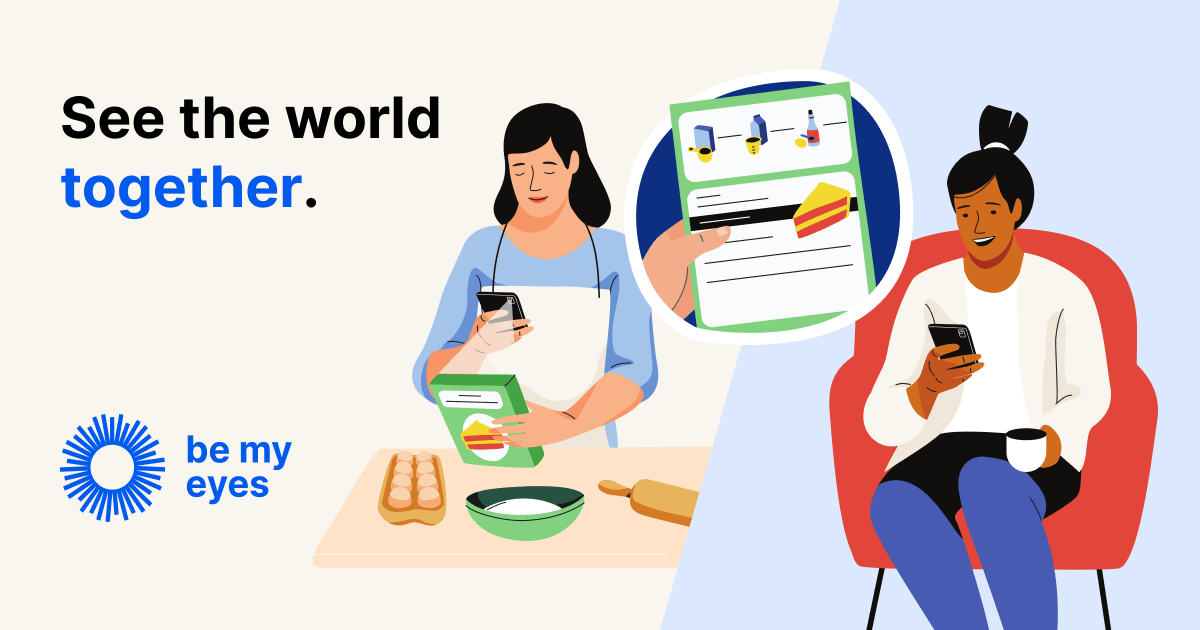 Micro-volunteering in Accessibility: Be My Eyes
Hans Jørgen Wiberg, a visually impaired furniture craftsman, started Be My Eyes in search of becoming more independent. Be My Eyes is a free app that connects blind and low-vision people seeking visual assistance with a network of volunteers via video calls.
How it works:
A visually impaired person needs visual assistance with a task.
They visit the app and request the next available volunteer.
A sighted volunteer answers the video call and they work together to complete the task.
This expands beyond the day-to-day tasks. Their Be My Eyes for Work function serves as an internal tool for companies to make the workplace more accessible. Using the same capabilities, visually impaired employees can connect with relevant departments to receive visual accommodations. This same technology is being used for live events and conferences via their Be My Eyes Experiences feature which provides on-demand audio descriptions for events. Past experiences using this integration include: BET Saving Ourselves special.
Be My Eyes is Apple's 2021 Winner for Social Impact. "Be My Eyes won because it's so clear the benefit that's being provided," said Mike Stern, a Design Evangelist at Apple. "There's just countless stories of humans helping humans. That resonates deeply with us." From choosing an outfit to operating new spaces, their network of over 4 million volunteers is lending their eyes and facilitating accessibility in over 180 languages for the visually impaired.
Download the app and learn more: https://www.bemyeyes.com/
Sources:
https://www.bemyeyes.com/blog/be-my-eyes-wins-an-apple-design-award
https://www.theguardian.com/lifeandstyle/2019/jul/12/be-my-eyes-app-blind-people-helpers