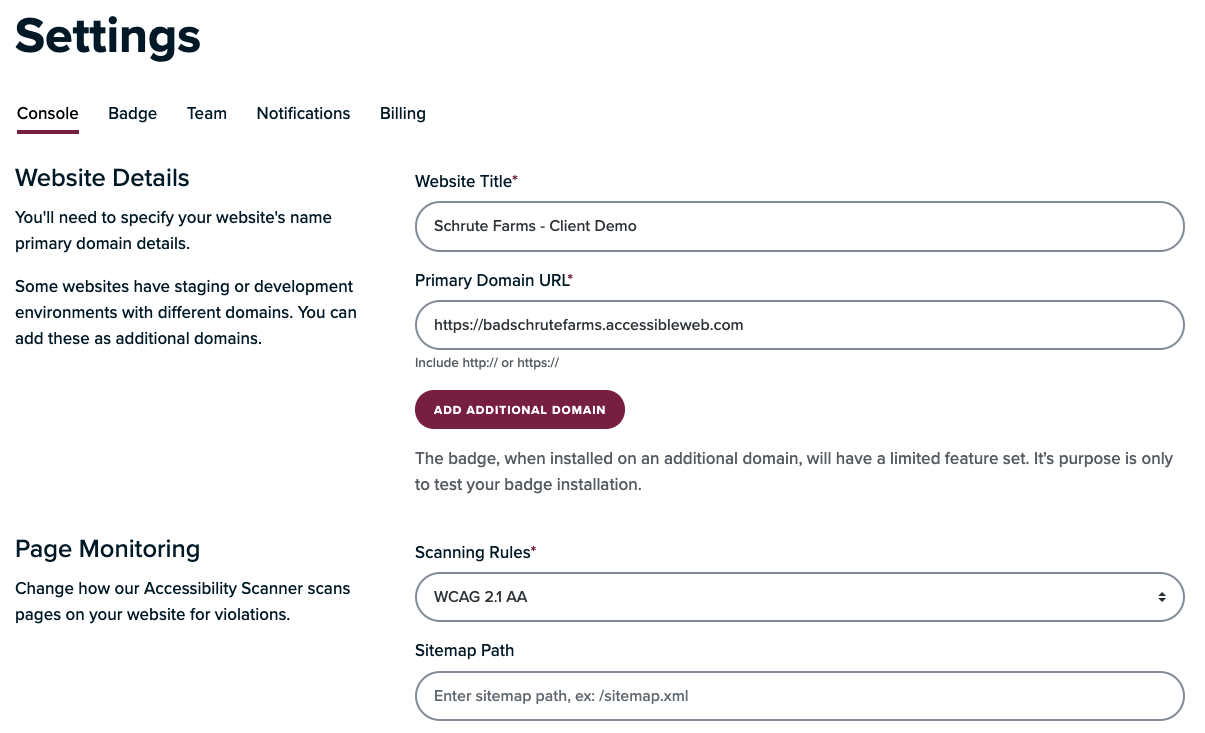 RAMP Settings Video Tutorial
Hello and welcome to Accessible Web!
Today we'll be reviewing website settings within RAMP.
To get to your website settings, go to the websites list, choose the site for which you'd like to edit the settings, and navigate to RAMP Settings
Here, you can edit your website details, page monitoring settings, and your accessibility goals.
The website title will be the name that your website is referred to within RAMP, while your primary domain URL is the URL to that website. If you have staging or development environments with different domains, these can be added into the additional domain fields. 
When adjusting page monitoring settings, you can adjust your scanning rules, sitemap path, default scan frequency. Scan frequency can also be changed for individual pages or groups of specific pages within the page monitoring feature in RAMP. 
Check out our page monitoring overview video or visit our website at accessibleweb.com for more details on the page monitoring feature.
When choosing your scanning rules, we recommend WCAG 2.1 AA because it is required for compliance with many laws regarding accessibility. Visit our website at accessibleweb.com to learn more about accessibility law! 
Commonly, the path to your sitemap will be your domain slash sitemap.xml or slash sitemap_index.sml, but it could be different. If you're not sure what your sitemap path is, you can check your robots.txt file at your domain slash robots.txt. Your sitemap file will usually be found here. 
Typically we recommend setting weekly as the default scan frequency, but other options could be more appropriate for your specific situation. When determining what your default scan frequency should be, it's a good idea to think about how dynamic or static the pages within your website are. The more frequently you update your site, the more frequently you're going to want to scan for errors. 
If your subscription doesn't allow you to perform the number of scans that you need to perform monthly, don't worry! You can set a monthly overage allowance to increase the number of scans that you're able to perform in a month. Once you've input a value into this field, the text beneath the field stating how many page scans are allowed and the maximum monthly cost associated with the new allowance will adjust based on the value that you have input.
Lastly, the accessibility goals section is where you can state your conformance goal as well as your conformance goal date. This information will not be public facing unless you decide to use an auto generated accessibility policy, then it will be included within your accessibility policy. The main purpose of providing this information is for your own accountability to your goals.
Thanks for watching! I hope you enjoyed this brief overview of website settings within RAMP. Check out some of our other videos to learn more about how to get the most out of RAMP, our tool for managing and organizing your accessibility work.