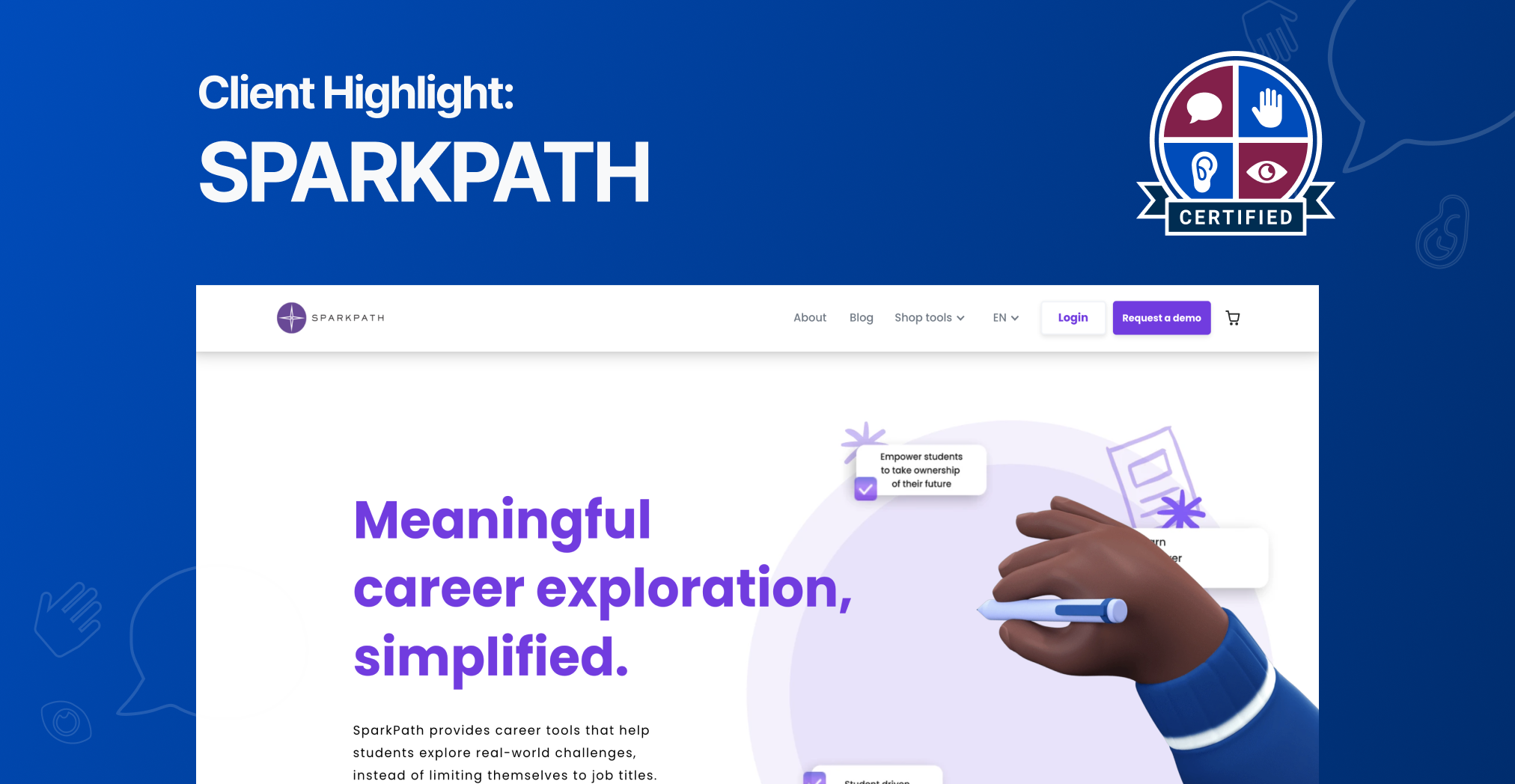 Client Highlight: Sparkpath
We congratulate our amazing client, Sparkpath, on achieving WCAG 2.1 AA conformance on their application! Their physical and digital tools let students take control of their future by allowing them to explore their passions in meaningful ways. They provide students with confidence, knowledge, and access to explore career paths.
A commitment to web accessibility is a commitment to every student. By engaging with Accessible Web, Sparkpath ensures that no student is excluded from unleashing their full potential. On what prompted them to improve their website's accessibility, project manager Camille Arseneault stated, "As we scale and work with higher education institutions, we've become aware that digital accessibility is an important criterion for them. We decided it was time to invest in meeting these guidelines." Web accessibility in education is about making advancements by removing barriers for students. Students should focus on learning, not struggling to use technology only designed for certain people.
Sparkpath's commitment to their student user base is clear as they continue implementing accessible practices. When discussing plans to continue working on accessibility, Camille states, "We intend to do so. We are currently still making changes to our PDF to not only make it accessible but better showcase the accessibility option." Web accessibility is an ongoing work in progress. To ensure conformance, one must continuously monitor their content to keep up-to-date with guidelines. Spakpath recognizes this by stating, "As a company that believes in continuous improvement, we intend to keep up to date with WCAG guidelines and ensure our tool remains accessible to all students."
In response to working with Accessible Web, Camille states, "It was very good. The team was responsive and accommodating to our needs and requests. Sometimes, there was a language gap between technical terms and our understanding of what was needed, but in these instances, you made yourselves available to ensure we understood what was required." The CDC estimates that over a quarter of Americans live with a disability. Sparkpath's certification means that options to find the right career are open to every one of them as well. We enjoyed working with such a committed client in making the web accessible to all.