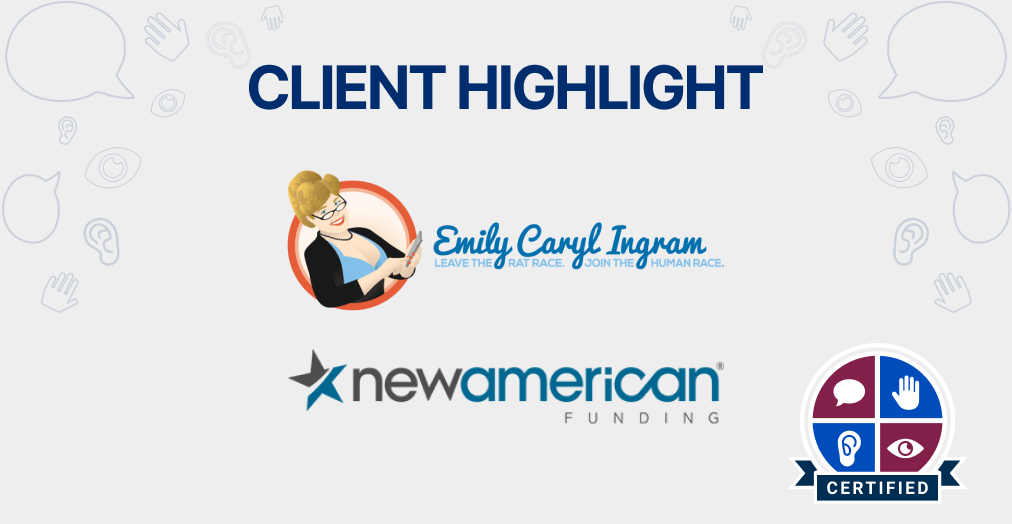 Client Highlight: New American Funding
We would like to congratulate our amazing client, New American Funding on achieving WCAG 2.1 AA conformance on their site EmilyCaryl.com! Emily Caryl Ingram has been in the mortgage industry for over 20 years. From small mortgage brokers to megabanks, she focuses on her relationship with her customers and prides herself in addressing her client's holistic financial condition.
Recognizing the importance of web accessibility, New American Funding joined Accessible Web to upgrade their website. Loan Office Assistant, David Hulegaard, states "Our website was created back in 2015 and hadn't received any major updates since. A lot of fantastic work has been done over the years to raise accessibility standards on the internet, and it was important for us to ensure that our website was up to date!" A commitment to web accessibility is a commitment to her customers to provide them with the best experience possible and continue helping them in their mortgage loan journey.
This commitment is continued by the ongoing accessibility monitoring through the use of our Accessibility Center. Not only does the Accessible Web Accessibility Center display a log of all the work New American Funding has put into their website's accessibility, but it also showcases their Accessibility Statement as a symbol of their commitment to this space. Users can use this center to report any accessibility issues they come across and request the associated accommodations.
The CDC estimates that 26% of Americans live with a disability. When services such as Emily Caryl's are not accessible, it reduces people with disabilities' options for finding a great mortgage lender to work with. New American Funding's story serves as a testament to the ease and attainability of making your website accessible. In response to whether the continued implementation of accessibility practices was in their future, Hulegaard states "Without question! We've learned so much through this experience, and it has already changed the way we think about our content and how it should be presented on the website in a way that's accessible to everyone who visits!"
We enjoyed working with such a committed client. In response to working with Accessible Web, Hulegaard said "It was amazing! As you can probably imagine, taking on a website without any significant updates under the hood within the last six years presented a lot of challenges, but the Accessible Web team was there to help us at each step along the way. Everyone we worked with had such a positive attitude and answered all of our questions in short order."