NFB Newsline – The App You Should Know About
Do you know the NFB-NEWSLINE? It's an exciting phone service that lets you quickly and easily listen to the news straight from your phone. The Newsline provides non visual access to traditional newspapers, magazines, and other publications, converted to an easy to use audio format.

By using their iPhone app you can "read" news, "on the Web, download it to your digital talking book player or to a portable MP3 player, or you can have the publications and TV listings read to you over your computer using the same functions as with traditional, phone-based, NFB-NEWSLINE®"
It works like this:
Sign up for the news service

Download the app to your iPhone or iPad

and start listening to an MP3 version of your favorite news outlet or magazine.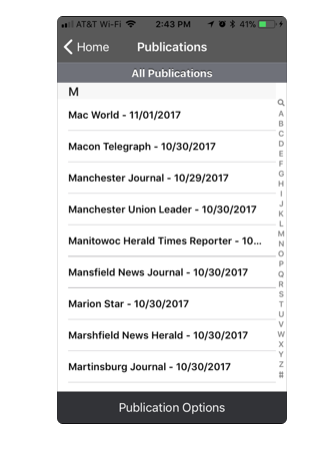 With their app you're able to build your own news experience, picking and choosing articles and sections from all available newspapers and magazines. NFB-Newsline includes local and regional publications, as well as the national newspapers, so wherever you live it's likely you'll find something relevant and interesting to help you stay informed.
You can sign up to get NFB-Newsline on this page, or click here to download the app for iOs!
---
The NFB-NEWSLINE was developed by the Jernigan Institute in Baltimore, Maryland. They're a research and training institute developed and run by blind people, who's main goal is to understand the struggles of blindness and work toward the independence of blind individuals. For more information on their programs read their brochure here.
Other Resources:
NFB site for Newsline: https://nfb.org/audio-newspaper-service
Newsline Blog: https://nfbnewslineblog.wordpress.com