How Accessible is Your Website?
Discover
Review every page of your website on your preferred schedule with our automated scanner. We check each page against ~100 accessibility rules to identify potential barriers. To demonstrate your progress, our system also tracks and charts your errors over time.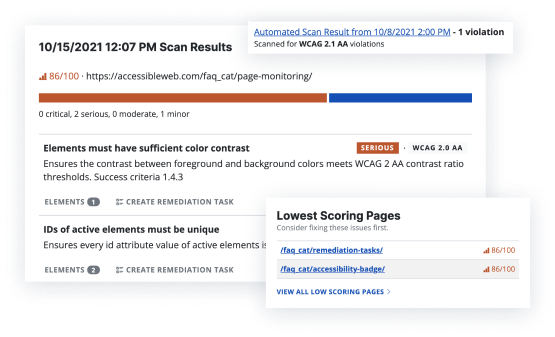 Understand
Turn accessibility errors into organized action items with our Remediation Task system. Inside our platform, each violation's relevant WCAG Success Criteria, accessibility rules, and common remediation techniques are built-in and ready to guide your team.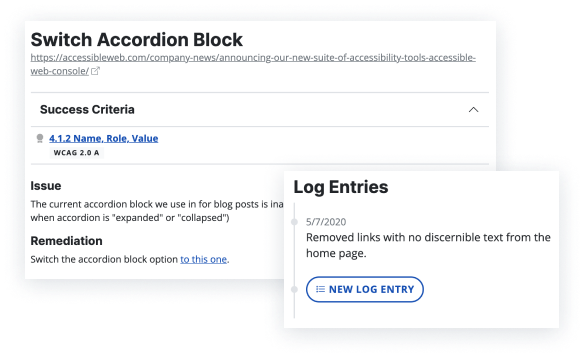 Resolve
Manage user issue reports through our User Tickets system. Issues sent through the A11Y Center are automatically sent to your team and loaded into the platform. Quickly validate reported issues, create remediation tasks, and correct the problem.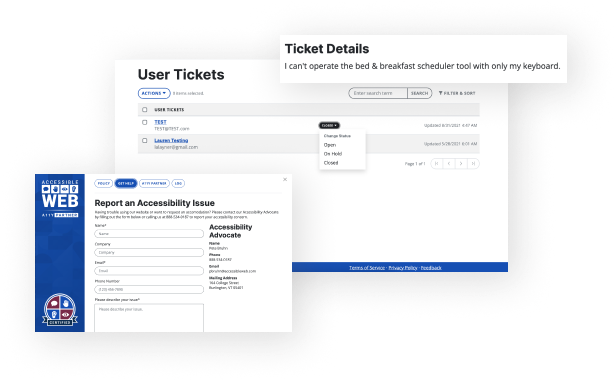 Our Experts are Here to Help
Our professional services fill the gaps where your team may need extra help, remediation advice, or reassurance that you're doing web accessibility right.
Manual WCAG Audits
Our certified specialists will comb through your website or app, test for every WCAG success criteria, and deliver a list of failures and remediation tasks. Learn more about our WCAG audits.
UX & QA Usability Testing
Our team of testers with a variety of disabilities will prepare a thorough report to help you understand how your website works for users with assistive technologies.
VPATs & Certification
We can create detailed VPATs for your application or digital product so you can provide accessibility reports as part of sales or compliance initiatives. 
A11Y Partner Program
We'll assign you an IAAP-Certified Accessibility Specialist to keep your team on track and provide assistance when you need it.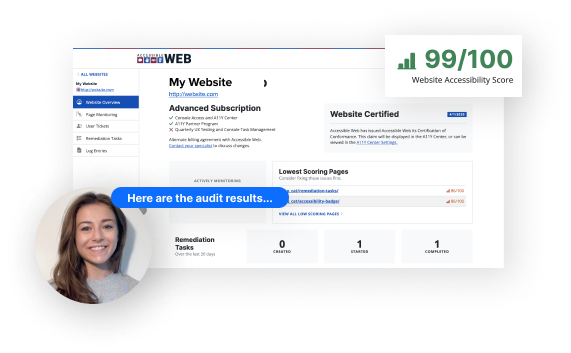 Web Accessibility is Required by Law
The Americans with Disabilities Act (ADA), and the Accessibility for Ontarians with Disabilities Act (AODA) apply to websites. Our experts will help you determine whether you comply, and help close the gaps where you don't. Schedule a consultation to get started.
Why Should You Work with Us?
We believe the internet should be accessible for everyone, regardless of ability. Our approach is thorough and focused on making web accessibility digestible for you and your team.
Accessibility Done Right
Overlays can create bad experiences for many users with disabilities. We'll help your team learn how to do web accessibility the right way.
Certified Experts
All members of our team hold certifications, or are in the process of obtaining certifications, from the International Association of Accessibility Professionals (IAAP).
Good For Business
Web Accessibility is great for SEO and improves usability for everyone. When your site or product isn't accessible, you're missing out on potential customers.
Avoid Lawsuits
Section 508, Section 504, the Americans with Disabilities Act, and the Accessibility for Ontarians with Disabilities Act all mandate conformance.
Overlay & AI-Based Products are Unacceptable Solutions
You simply can't pay $49/mo, install a script, and let AI update your website in 48 hours and expect a truly accessible website. Overlays create a veneer of accessibility, but they can also create a bad experience for many users with disabilities.
With us, your team will learn how to do web accessibility the right way so it becomes second nature as they build and maintain your website and web applications.
Meet our Customers

Resources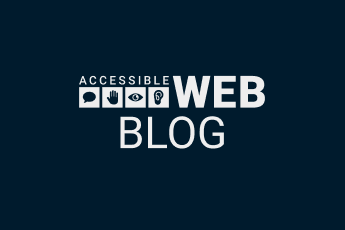 Accessible Web Blog
Explore assistive technologies, remediation tutorials, and much more on your accessibility journey.
Accessible Web Extension
Streamline your process by scanning website pages, highlighting violations, and checking contrast rations straight from your browser.